Trains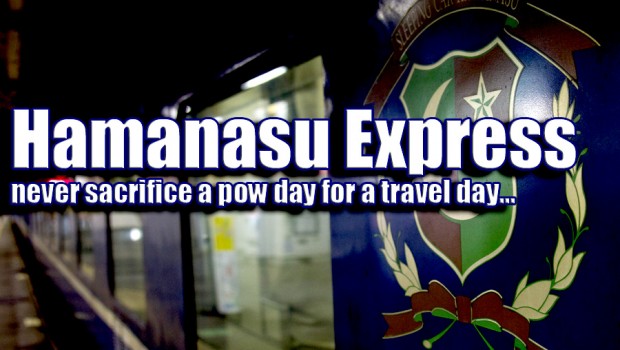 Published on April 15th, 2013 | by Japan Snowtrip Tips
0
Hamanasu Express Overnight Train Aomori-Sapporo: The Japan snowrider`s ticket between Honshu & Hokkaido
Hamanasu Overnight Express
Summary: The Hamanasu Express overnight train connecting Aomori, Tohoku with Sapporo, Hokkaido, is one of the best travel deals in Japan allowing snowsports lovers to maximize their precious powder playtime to the fullest.
4.1
Japan`s powder express
If you decide to explore the snowy peaks on both Islands during your Japan snowsports holiday, one of the toughest logistical details will be to get from main Island, Honshu to northern Island, Hokkaido, or vice-versa.
It`s not that there aren`t numerous transport options. You can fly, drive, take a ferry or ride the train.
But not every option is affordable, nor is every option convenient when your goal is to be there in time for fresh tracks without losing a day traveling.
The Hamanasu Overnight Express connecting Aomori with Sapporo solves this dilemma and truly is a Japan snow rider`s best friend.
Hamanasu Express Ticket Reservations

Hamanasu Express reservations can be made at any JR office in train stations or airports around the country. Ticket reservations are not required to secure a spot on the Hamanasu Express but if you want any level of comfort, a reservation is strongly recommended. The Japan Rail Pass is valid, potentially making the journey "free" (already included in your pre-paid JR Pass), however additional fees apply for sleeper car reservations.
Reserving a spot on the Hamanasu Express not only nullifies the cost of a hotel, but also allows you to ride all day at a northern Honshu Tohoku ski area in Aomori, Akita or Iwate, then arrive early enough the next morning in Sapporo to access nearly any ski area in Western Hokkaido worth riding in time for the first chair-lift. The inverse applies if traveling from Sapporo to Aomori as arrival time will be early enough to reach a variety of northern Honshu ski areas via public transport.
Hamanasu Express Sleeper Cars & Seats

The following list outlines the type of beds and seats available on the Hamanasu Express. We advise all skiers & snowboarders wanting to ride upon arrival the next morning to reserve a Type B sleeper car or Carpet Car as these options will allow you to stretch out in a fully prone sleeping position.
Sleeper Car, Type B: reservation required, additional 7560yen/pp; accommodates up to 4 people in bunk-bed style arrangement; pillow & linen provided; lower bed dimensions: 195cm x 70cm x 111cm, upper bed dimensions: 195cm x 70cm x 95cm; excellent comfort level providing adequate privacy worth every additional Yen
Dream Car: reservation required, no added charge w/JR Pass; 1st class-type reclining train seat; comfort level similar to a business class flight in terms of legroom but with less seat recline
*Carpet Car: reservation required, no added charge w/JR Pass; pillow/linen/heated blanket provided; this is how most Japanese like to travel as it`s cheap and relatively comfortable albeit with very little space between each person & almost zero space for baggage;  *

please note

: Reservations for Carpet Car spaces get booked quickly and far in advance. Carpet Car reservations are available one month prior to departure date and are usually secured by domestic residents quickly. To our knowledge there is no way to book from overseas so your best chance is to reserve immediately upon arrival at the JR office at arrival airport. If you have a contact person located in Japan it`s possible to have him/her reserve for you.
Non-reserved seat: no reservation required, no added charge w/JR Pass; least comfortable way to travel on Hamanasu Express, resembles basic 2nd class train seat, similar comfort to economy-class flight
Hamanasu Express Routes & Timetable

Honshu to Hokkaido: The Hamanasu Express departs from Aomori Station at 22:42 (10:42pm) and arrives at JR Sapporo Station at 6:06am, with a total travel time of less than 8 hours. Please be aware that your departure station is the main JR Aomori Station, not Shin-Aomori (which is the hub for Shinkansen trains arriving from Tokyo). If you are attempting to access the Hamanasu Express via shinkansen originating from Tokyo, you`ll need to change at Shin-Aomori to Aomori Station in order to board the overnight train.
Hokkaido to Honshu: The Hamanasu Express departs JR Sapporo Station at 22:00 (10pm) and arrives at Aomori Station at 5:40am. There are a number of stops along the Hamanasu train line between Aomori & Sapporo– Hakodate, Oshamanbe, Date-Monbetsu, Higashi-Muroran, Noboribetsu, Tomakomai, Minami-Chitose, Chitose, Shin-Sapporo — but simply stay on the train until it reaches its terminus.
Hamanasu Express Snowtrip Tips
Snowtrip Tip 1, Reserve early or find another powder train.
Reserve as far in advance as possible, especially if you intend to book a Type B Sleep Car or Carpet Car. The Carpet Car will likely be unavailable if you`re coming from overseas as domestic travelers generally reserve these places one month in advance as soon as these spots are made available to the general public. We recommend reserving a Type B Sleeper Car immediately when you validate your Japan Rail Pass at your arrival airport JR office.
Snowtrip Tip 2, The only place in Japan without a vending machine…
Buy food & drinks BEFORE you get on the Hamanasu Express. There are very good food stands inside Aomori Station (sushi, tempura, sandwiches, etc.) but they close at 8pm. Otherwise there is a convenience store that stays open until 9-10pm, but don`t risk missing out on your meal as there is no food/beverage service on the Hamanasu Express. If you already ate dinner before departure, still be sure to buy a drink for the ride and a little something to munch on for breakfast the next morning.
Snowtrip Tip 3, Hamanasu facilities…
There are washrooms, toilets and small changing rooms (powder rooms) but these limited spaces can get very busy when nearing the destination. To avoid standing in line or failing to freshen-up before exiting, try to beat the crowds to the washroom in advance 30-45 minutes prior to arrival.
Snowtrip Tip 4, Hamanasu etiquette…
Passengers on the Hamanasu Express will almost immediately attempt to fall asleep after installing themselves in their bed or seat. Keep noise and commotion to minimum. Also, much like most private interior spaces in Japan, you should remove your shoes when entering the sleeper cabin and wear the slippers provided.
Snowtrip Tip 5, Hamanasu bag storage (Type B sleeper car)…
Each Type B sleeper cabin has a wide, relatively deep, elevated storage space spanning the width of the berth located at one end of the upper bunks. There is enough space for a few large travel backpacks or mid-size suitcases. But storing ski & snowboard bags can be challenging. If you reserve an entire Type B sleeper car for 4 people, it is feasible to pile your ski-snowboard bags in the middle area separating the two sides of the sleeper car. Or if you are lucky enough to have an extra unreserved bunk in your sleeper car, ski-snowboard bags can also potentially be laid out across the unused bed.
**With reference to the above statement, most spaces are taken on the Hamanasu Express, leaving very little storage space inside the sleeper cars, especially for ski-snowboard equipment. Even if you begin the journey with an empty bunk, it is possible that a passenger will arrive at some point during a station stop through the night. To avoid hassle, embarrassment and disruption in the middle of the night while trying to sleep, we recommend utilizing the ¨powder room" adjacent to the wash basins/toilets positioned at the connector point between each train car. As this is an unofficial solution not sanctioned or approved by train attendants, we advise discretion when doing so. None-the-less, we haven`t encountered any problems with this method and consider it one of the only ways to transport your skis-snowboards on the Hamanasu Express without disturbing the comfort of other passengers (or yourself).
Snowtrip Tip 6, Personal comfort requires ear plugs.

The bed, linen and pillow provided in the Type B sleeper car or Carpet car are very comfortable and the sliding curtain provides an adequate level of privacy. Although passengers on the Hamanasu Express are generally very quiet, the train itself is anything but silent. We recommend bringing a pair of earplugs for the journey, especially for those sleeping on the bottom bunk. The squealing noise from beneath the train as rail grinds against wheel is enough to keep the deepest sleeper awake. The top bunk generally doesn`t suffer from this problem, but who`s to say your neighbor isn`t a loud snorer. Better safe than sorry…bring your earplugs to ensure a comfortable sleep.