Food & Drink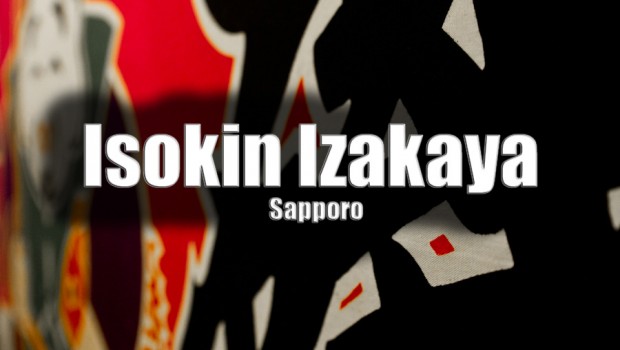 Published on July 6th, 2012 | by Japan Snowtrip Tips
0
Isokin Izakaya: Sapporo`s 10th floor treasure
Isokin Izakaya Review
Summary: The "Ocean`s Gold" as it roughly translates to, is one of those special izakaya that is so good it might ruin your experiences at the majority of other sub-par bar & grills scattered across Japan. If you want a fun, memorable, exclusive izakaya experience in Sapporo, Isokin is it.
4.7
Top-tier Sapporo eatery atop the city
You can find izakaya (Japanese bar & grill) everywhere in Japan. But finding a truly memorable one isn`t always as easy.
A lot of izakaya serve similar dishes at standardized prices. Most are generally forgettable unless your memories are of something that didn`t quite sit right with your belly.
Sapporo`s top-notch high-rise eatery in the energetic Susukino neighborhood, Isokin, is definitely above your average izakaya and will stick in your memory banks for all the right reasons. The fact that locals pack this place every evening speaks for its reputation amidst a sea of other dining options near-by.
After an elevator ride to the 10th floor — a unique attribute different from many street-side or dark subterranean izakaya — you`ll be greeted with smiles, ushered to your cozy partitioned private eating area and have the opportunity to devour some of Hokkaido`s best hand-picked fresh seafood & other regional delights.
Succulent crab, decorative sushi & sashimi plates, salmon roe over rice, fried crab tempura and other house treats made from local Hokkaido products will put a smile on your soon-to-be fatter face.
Your culinary adventures will play a significant role during your travels in Japan.  A night out at Isokin, one of Sapporo`s most atmospheric, delicious and welcoming izakaya, will tip the scales of your edible experiences in Japan toward the right direction..albeit maybe a bit happily heavier too.
Isokin Gyogyo Buesashikou 磯金 漁業部 枝幸港 is located in the vibrant nightlife & culinary district of downtown Sapporo, Susukino.
There are so many eateries sharing the same street block as Isokin that you can easily miss the entrance unless you`re able to read kanji or fortunate enough to have a local show you the way. Japanese addresses are a mystery even to many Japanese as the numbering system isn`t as simplistic (or logical) as in other countries. But if you`re lost, there`s a good chance a friendly local Sapporite will steer you in the right direction as long as you`re in the vicinity.
Directions:
At the junction of Sapporo Ekimae-dori (the main street running North/South from Sapporo Station) and the Susukino subway stop, walk east 2 blocks. The high-rise building on the corner of the 2nd block (left side) is where you`ll find Isokin. There is a Mercure hotel (at a 45° angle) across the street and the Susukino Green Hotel is directly across the street.
Otherwise if coming from the south, exit the Hosui-Susukino subway station at the northern end (#1, 2 or 3 exit) and you`ll see the high-rise building with lower half colored light tan and upper half bluish glass.
Address: South 4 West 2 birr 10F, South 4 West 2 Chuo-ku, Sapporo-shi, Hokkaido, 064-0804
Phone: 011-252-1733
Opening Hours: Mon.-Thurs & Sun. 17:00-23:00 (last order 22:30); Fri.-Sat & day before holiday 17:00-24:00 (last order 23:30)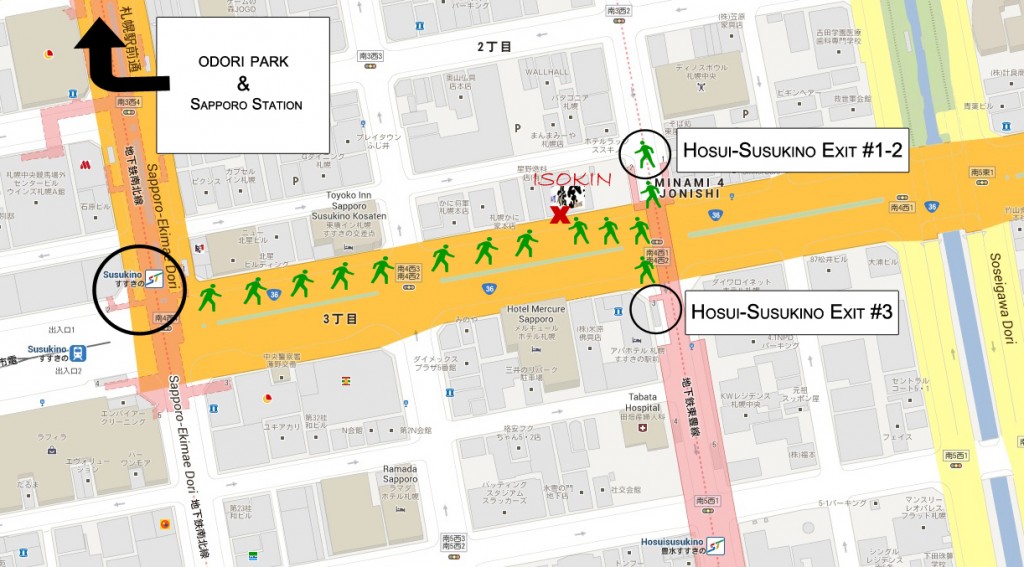 Isokin Izakaya Snowtrip Tips
Snowtrip Tip 1, Don`t get stuck in the basement.
Isokin`s food & service quality is head-and-shoulders above a lot of izakaya in Japan that we`ve tried. Their atmospheric 10th floor high-rise location literally puts them above a lot of others as well, which is another reason Isokinis a local`s favorite in Sapporo.
We`d strongly recommend calling ahead for a reservation every night of the week no matter what time you`d like to eat. Otherwise, you might get stuck at a typical street-side or underground izakaya. Are all underground or street level izakaya bad? Absolutely not. Will Isokin deliver a more unique, top-quality, memorable dining experience. Likely so.
English isn`t widely spoken amongst Isokin staff (which is not uncommon throughout Japan), but there will be someone able to understand your basic reservation request concerning number of people and time.
Snowtrip Tip 2, Eat hairy…

What we mean is to eat "hairy crab", one of Hokkaido`s regional species of meaty, multi-legged crustacean. You`ll be brought a couple of  giant crabs fresh from the morning catch split-down the middle and ready to suck out the tender white insides. This is a great dish to share amongst your group while waiting for other courses to arrive (serves 4-6, approx. 400g).
Snowtrip Tip 3, Eat, drink and be merry…without stressing over the bill
Eating at Isokin isn`t necessarily cheap, but it`s not overpriced. As soon as you regrettably eat at an izakaya that doesn`t meet the same quality standards as Isokin, you`ll realize that the final cost was justifiable.
A normal izakaya bill for a group of 4 — after calculating total food & drinks which will likely include a bunch of booze — can easily surpass 20,000yen (200USD).  Prices are generally standard though, so regardless if you pick a rat-trap or follow our advice and catch the elevator up to the 10th floor to Isokin, you`re paying around the same.
You can cut down on the final cost by limiting your alcohol intake, but seriously, it`s a Japanese bar & grill…you`re supposed to eat, drink and be merry!
Dinner at an excellent izakaya like Isokin, is supposed to be fun and shouldn't be spent worrying how much stuff costs. Every Japan snow trip should be filled with a heavy dose of economical eating and at least one solid splurge on a meal you`ll remember years down the road.
Order a bunch of different foods from appetizers to main courses to desserts and live it up! After you split the bill between friends, you`ll only need to drop 3000-5000yen/pp to eat & drink until you can`t eat or drink until lunch the next day.
Snowtrip Tip 4, Top izakaya = top booze
The alcohol selection at Isokin is very good including beer, wine, liquor and spirits. Above all, Isokin offers a couple special treats for alcohol aficionados.
Be sure to request the top-tier shochu — a powerful, smooth, white rice liquor — called kameshizuku, originating from the far southwestern Honshu prefecture of Kyushu. This high-end-vodka-like beverage which is so pure it translates to "drop of water" is ladled from a bamboo jug and served straight over ice. It goes down smooth as water but you`ll realize it wasn`t water a bit later when your walking ability isn`t as silky smooth as the drink was. Luckily there`s an elevator to get to the taxi.
Also, offered mainly for the ladies, is ume – a light, soft, refreshing rose colored drink made from cherry blossoms.
Snowtrip Tip 5, Menu item suggestions…
It`s our opinion that you could ask the chef to prepare whatever he wants and it`d be an excellent meal. But here`s a few of our favorites:
kambu: rare seaweed pasta with soy sauce (house specialty)
kegani: hairy crab
chanchan yaki: boiled salmon mixed with corn, onion, butter, miso, shrooms and cabbage
sashimi plate: assortment of tuna, whelk, bulot, octopus, squid, scallops, mackerel and a rare sashimi delicacy in Japan — ruibe (frozen fresh salmon)
tempura: lightly battered & fried crablegs, beans, mushroom & pumpkin
salmon roe & crabmeat rice bowl: Hokkaido specialty, salmon eggs with chunks of fresh crab over white rice
*cherry blossom cheesecake: it`s different than western-style cheesecake but absolutely incredible…light, soft pink color, aromatic and subtle sweet taste