Yoichi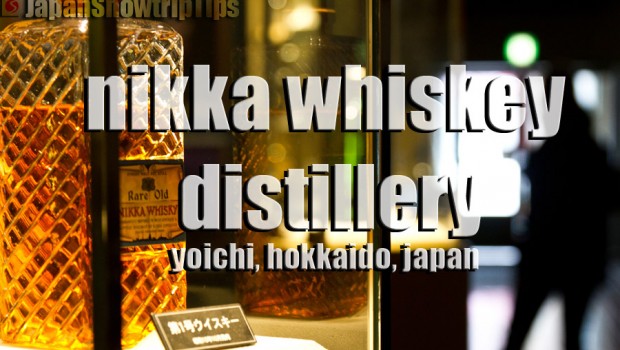 Published on May 10th, 2013 | by Japan Snowtrip Tips
0
Nikka Whiskey Distillery Tours & Tasting, Yoichi, Hokkaido, Japan
Nikka Whiskey Distillery Tour
Summary: Less than 30 minutes via beautiful train ride from Otaru, the small oceanside town of Yoichi, Hokkaido, is home to one of Japan`s top whiskey producers offering free tours & tastings.
4.4
Free booze after powder turns
Single malt and blended whiskey aficionados have the unique chance to step inside whiskey`s world-famous Hokkaido household  by touring the grounds of the Nikka Whiskey Distillery in Yoichi.
You can experience the whiskey distillation process first-hand, gain knowledge about the whiskey making process and taste the goods for free.
But even if you`re not a whiskey lover, the attractive complex is worth a visit for the excellent museum detailing the story of one of Japan`s most interesting marriages between East and West. Likewise, the gift shop will give you a options to find a nice keepsake (drinkable or not) for someone back home.
You can`t spend every moment of your skiing & snowboarding trip in Japan on the slopes and honestly it would be a shame to approach your Japanese snowsports journey in such a narrow way. A visit to the Nikka Whiskey distillery rests near the top of our list for fun, memorable and affordable side-trips that help mix meaningful cultural exploration with slope-side adventures.
Nikka Whiskey Distillery & Museum Access
Train: The Nikka Whiskey Distilery in Yoichi, Hokkaido, is accessible via 25-30 minute train ride from Otaru on the JR Hakodate line. Yoichi is normally the 3rd stop. If travelling from Sapporo, take the JR Rapid Airport Express to Otaru, then change at Otaru JR Station to the Hakodate line.
Bus: Daily bus service originating from the Chuo bus terminal #5 at Otaru JR Station will also bring you to Yoichi in less than 1 hour.
Nikka Whiskey Distillery & Museum Hours/Cost

Daily guided tours are offered approximately every 30 minutes between 9AM-4:30PM (with an employee break for lunch between Noon-1pm).
The final tour of the day begins at 3:30PM.
As of 2014, there are currently NO ENGLISH LANGUAGE TOURS.
Self-guided tours are open to the public during normal business hours from 9AM-5PM daily. Enter the distillery grounds, pick-up a free map from the gate attendants and explore the grounds at your own pace.
Guided and self-guided tours are FREE.
Nikka Whiskey Distillery Snowtrip Tips
Snowtrip Tip 1: Soak in more than the booze…

Are you only there for the free whiskey? If so, that`s your choice. But we recommend allowing around 2.5 hours to leisurely enjoy the full Nikka Distillery tour experience. Aside from being able to watch the distillation process and freely explore much of the large complex, the Nikka Whiskey Museum is an incredibly interesting & well-designed tribute to the life story of Masataka Taketsuru, as well as to whiskey production itself. Taketsuru was the Nikka founder and considered by many as the father of Japanese whiskey. Nearly all of the information is presented in both Japanese and English, so there`s no excuse to soak up a bit more than blended alcohol on your tour of the Nikka distillery.
Snowtrip Tip 2: Round two, let the tasting begin…

Same question as before…are you only there for the free booze? If yes, no worries. There are plenty of guests who seemingly breeze through the worthwhile museum and attractive grounds to make their ways to the two tasting areas. The first tasting area is located mid-way through the museum, but isn`t free. There are numerous varieties of malted, blended and single cask whiskies, as well as aromatic brandies that are available for consumption from reasonable bar-tab prices to deep-pocket-only prices. These Nikka offerings in the pay-only tasting section are unquestionably higher quality than the free offerings. Our recommendation would be to tour the entire facility at a leisurely pace, make your way toward the end of the accessible grounds by following the signs to the free tasting area, grab one or two free samples, then meander back to the pay-only tasting area to drink the better quality Nikka booze before heading home.
Snowtrip Tip 3: Fill-up on sushi or sashimi before whiskey…

It`s never a good idea to drink alcohol on an empty stomach. Lucky for you there`s a real hidden gem of a fish market located right in between the JR Yoichi station and the Nikka Distillery. Head straight out of the train station, walk a few blocks until you see the orange awning above the Kakizaki Market on your left. Take a stroll around the ground floor of the fish market/grocery store/alcohol distributor admiring the fresh fish, produce and top-notch booze, then walk upstairs for a fresh sushi or sashimi dish priced from only 200-1200yen.
Snowtrip Tip 4: Shred pow and drink for free
There`s no need to sacrifice a powder day just to get a free buzz! Although a sidetrip to Yoichi makes a great non-ski day activity, it`s easily possible to shred some morning pow for a half-day above Otaru at Tenguyama Ski Area or other relatively close-by ski hill like Kiroro , then still have enough time in the afternoon to grab some sushi at Kakizaki Market & enjoy a leisurely tasting tour of the Nikka Whiskey Distillery. Morning powder faceshots + cheap fresh sushi + free booze = legendary Japan snow trip memories!
Snowtrip Tip 5: Plan your train itinerary wisely…

There are no trains from Yoichi to Otaru between 1PM-3PM in the winter,  so consider arriving in Yoichi around lunch time, eat at the Kakizaki Market mentioned above, spend a couple of hours in the distillery, then hop the train back to Otaru or Sapporo in the late afternoon. This itinerary makes a lot of sense as it allows you to spend your time in Yoichi during a period of the day when train service between Otaru and Yoichi stops, yet still make it back to your hotel in Otaru to enjoy the rest of the evening (or take a quick whiskey-induced nap before dinner). If you get a later start, get drunk & pass out in Yoichi until after the sun sets, don`t worry. The last train from Yoichi back to Otaru departs after 10PM (22:00). Also keep in mind, as is often the case, this cultural snowtrip sidetrip can be entirely free if you bought a Japan Rail Pass.