Lodging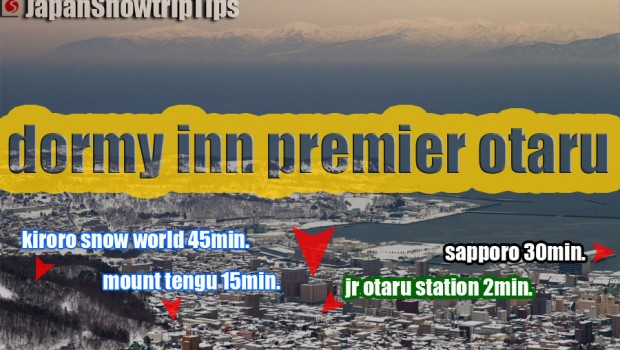 Published on September 19th, 2013 | by Japan Snowtrip Tips
0
Best Otaru Hokkaido Hotel Deal – Dormy Inn Premier Otaru
Dormy Inn Premier Otaru
Summary: The Dormy Inn Premier Otaru, located across the street from JR Otaru Station, offers great value for money. You`ll be within reach of multiple Western Hokkaido skiing & snowboarding destinations and have easy public transit access to discover the greater Sapporo region on and off the slopes.
In our view, the Dormy Inn Premier Otaru rates as one of the best hotels in Western Hokkaido. Rooms are clean, comfy, sound-proof and well-sized by Japanese standards. Friendly reception, affordable rates, easy access to public transport, proximity to Otaru town attractions & restaurants, excellent onsen and free ramen noodles on cold winter evenings add-up to one of the top lodging deals we`ve found in all of Japan.
We strongly recommend that outgoing travelers experience a homestay in Japan, but sometimes the comfort and reliability of a business-class hotel is the best way to go. Besides, the short 30-minute train ride from JR Sapporo Station into Otaru puts you within reach of 15 ski areas in under 2 hrs by public or private transport. Sleep, eat, soak and shred comfortably…now you see why we love the Dormy Inn Premier Otaru so much.
The Dormy Inn Premier Otaru is located across the street from JR Otaru Station on the northeastern corner. The hotel logo is visible from the train station main entrance.
Address: 3-9-1, Inaho, Otaru city, Hokkaido 047-0032, Japan
Phone/Fax: 0134-21-5489 / 0134-33-0103
Amenities & Services click here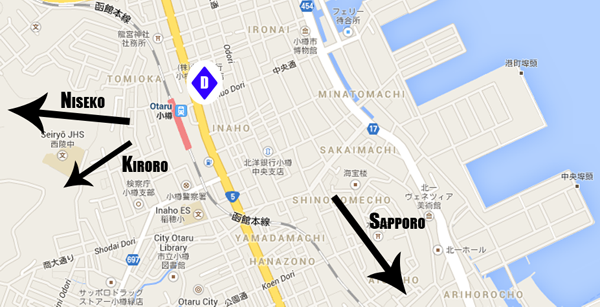 Otaru, Western Hokkaido Snowtrip Tips
Snowtrip Tip 1: Soak in the excellent trademark Dormy Inn spa
Bathing is a big deal in Japan. Outdoor onsen and indoor spas are everywhere, including at the Dormy Inn Premier Otaru. Throw on the complimentary spa pajamas provided in your room and head toward the multiple heated pools to relax your thigh muscles from waist deep powder riding. Check out our helpful Onsen Guide if you`re not sure.
Snowtrip Tip 2: Late night munchies? Eat free Ramen at the Dormy Inn

Every night during the winter, the Dormy Inn Premier Otaru staff prepares free hot ramen for guests. Ramen is served for a limited time (9pm-11pm), but the portions are unlimited. Don`t be shy about asking for a second bowl, but if you go back for thirds or fourths, you`ll definitely get some stares from the locals for being rude. Yes, we went back for thirds…shredding Japow makes us hungry. Soak in the spa, grab a drink from the vending machine on your way to the cafeteria, then enjoy the yummy free ramen noodles.
Snowtrip Tip 3: Ice walkers…
Otaru is a lovely town to use as a base for Western Hokkaido winter exploration. But if you intend on a lot of walking, we recommend purchasing slip-on crampons for your shoes or at the very least wear heavy-duty winter boots with good tread. The ice and snow piled-up on the streets & sidewalks is no joke. You definitely won`t find it funny if you can`t ski or snowboard because you slipped on sheet ice while walking to the vending machine for a beer or hot tea.
Snowtrip Tip 4: Overnight train > Arrive Sapporo  > Check-in Dormy Inn Premier Otaru > Run to the bus > Ride Kiroro pow

Weather turns nasty on Hokkaido quickly. Chances are you`ll have down-days away from the slopes due to road closures, avalanche danger or low-visibility. Don`t lose a day traveling between powder locations. Maximize your ride time on both Honshu & Hokkaido by taking the Hamanasu Express overnight train from Aomori to Sapporo. After your 6AM arrival in Sapporo, catch the JR Airport Express from Sapporo to Otaru, check-in at the Dormy Inn Premier Otaru, grab your gear, then hustle to catch the 8:10AM Chuo Bus at JR Otaru station toward Kiroro Snow World for blower pow all morning.