Tenguyama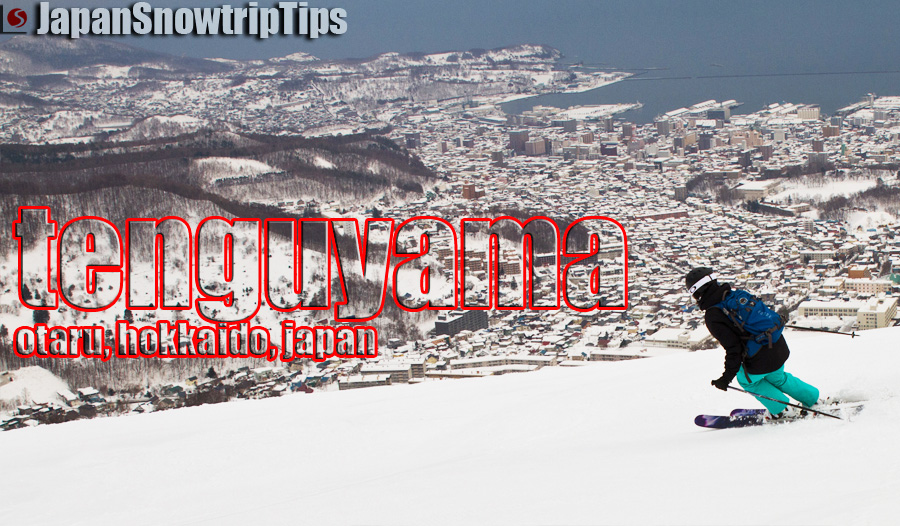 Published on April 18th, 2013 | by Japan Snowtrip Tips
0
Tenguyama Ski Area, Otaru, Hokkaido, Japan – Ocean views and crowdless cruising
Otaru Tenguyama Ski Area Review
Summary: Easy public transit access from picturesque Otaru, marvelous views, enjoyable pisted terrain for different levels and even a few fun off-piste options await visitors to this small, family-friendly Western Hokkaido ski hill. You won`t find a lot of kilometers at Mount Tengu but the ones you find are surprisingly good fun.
3.4
Crowdless Ocean Views
Otaru Tenguyama Ski Area provides a great half-day outing for snow riders who recognize that good things can come in small packages.
Mount Tengu isn`t a world-class multi-day Hokkaido ski destination like Kiroro, Niseko or Rusutsu. But host seaside town, Otaru, is definitely a regional highlight worthy of an overnight stay or better yet, to be used as a base for extended Western Hokkaido exploration.
You won`t be overwhelmed by the rideable terrain at Tenguyama, nor will the  snow conditions rival higher, larger Hokkaido ski resorts. But if you`re looking for a few hours of fun at an uncrowded family-friendly Japanese ski area easily accessible by public transit from Otaru`s main station, this is a great spot for you.
Lift tix won`t break the bank, weekday queues don`t exist and the surprisingly steep (albeit short) terrain make Otaru Tenguyma a very likeable little ski hill.  With the right expectations beforehand, Mount Tengu makes for a great addition to any snow sliders` Western Hokkaido snow trip itinerary that`ll leave you smiling from the great Ishikari Bay views, empty trails and some fun shred surprises as well.
Otaru Tenguyama On-piste Skiing & Snowboarding

Little, unassuming Mount Tenguyama will likely surprise and maybe even scare you on piste. Although small in terms of number of runs and kilometers, there are groomed sections of the mountain that snow riders of all abilities will appreciate. The 400 meter elevation rise from base to mountain top gives just enough vertical to provide adequate run length (and smiles at the bottom) for such a small ski-jo.
Beginner: The upper portion of the mountain above the main cable car is extremely flat and provides beginners with excellent slopes to learn on, as well as enjoy the expansive views. There`s also one trail winding down the skiers far-left allowing novices the opportunity for long descents from the summit to the base of the Tenguyama Ropeway station.
Intermediate: Unlike the majority of Japanese ski areas, the intermediate terrain at Otaru Tenguyama ski area is actually in the minority compared to advanced trails. After clearing the flat top portion, the best intermediate option is to stay skier-left of the two-seater chairlift rising from the base. The rollover transition from flat upper section to downhill run is a challenging gradient of 38° requiring intermediates to carefully control their speed. The lower half of the mountain to the left and right of two-seater chairlift is a comfortable intermediate descent to the base.
Advanced: The pistes dropping off the left and right side of the Ropeway are extremely steep, both falling away at 40°+. Trail A (skiers-right of Ropeway) is rated "black" from top to bottom along it`s 1500 meter descent. Trail D (skiers-left of Ropeway) plummets approximately 450 meters at 40° until mellowing out into an intermediate rated slope back to the Ropeway station.
Otaru Tenguyama Off-piste Skiing & Snowboarding

We`re pretty sure the official off-piste skiing & snowboarding policy at Otaru Tenguyama ski area is similar to most Japanese ski areas…off limits. But as we were two of a total six people on the entire mountain during our weekday escapade (of which 3 were in a beginner lesson), the lift operators seemed more intrigued by our presence than us poaching the powder beneath the lift lines and in the trees. Mount Tengu is a compact ski area, so the off-piste potential isn`t overly impressive anyway. But no crowds, shin-to-knee deep freshies and some pretty fun, steep fall lines under the two-seat charlift, as well as short but steep treed sections scattered between the pisted areas all over the mountain make Tenguyama a fun spot to quickly dip off the trail without fear of seeing another soul (or track).
Otaru Tenguyama Crowds

On a scale of 1 to 10 — 1 being minimal crowds and 10 being extremely crowded — we would give weekday crowds a nominal value of 0 (zero). Weekends will always be more crowded, but with larger, higher elevation ski resorts offering more terrain and deeper snowpacks only an hour away by bus (Kiroro), a weekend at Mount Tengu would still likely be pretty mellow.
Otaru Tenguyama Ski lifts

There are a total of three ( 3 ) ski lifts at Otaru Tenguyama ski area. Although small in terms of lift infrastructure, the lift system at Tenguyama is adequately efficient and isn`t overly obtrusive to the landscape. The Tenguyama Ropeway (cable car) rises to 532 meters and can transport 30 skiers-snowboarders in 4 minutes from base to summit.  A two-seater chairlift also ascends from the ski area base and actually surpasses the Ropeway, making it the only true bottom-to-top lift option at the ski hill. The last of the three lifts is a slow, nostalgic single-seat chairlift accessing the flat beginner slopes above the Ropeway. Unless you`re a beginner, there`s no real reason to ride it, but seriously, everyone needs to ride this ancient beauty at least once!
Otaru Tenguyama Snow
The snow quality on Mount Tengu isn`t as light or deep as higher Hokkaido ski areas, but mid-winter conditions all the way into early March allow for some very enjoyable powder conditions. Proximity to the coast coupled with low elevation makes the snowpack unpredictable and susceptible to rain when higher Hokkaido ski areas are getting dumped on with snow. The steep mid/upper portion of the mountain maintains generally good snow quality even near the end of the season, while the lower portion of the mountain can suffer from warmer, wetter maritime conditions, as well as sun damage.
Otaru Tenguyama Mountain Stats & Ski Trail Map
+ Terrain
Beginner: 50%
Intermediate: 20%
Advanced: 30%
# of Runs: 6
Longest run: 1.7km
+ Elevation & Snowfall
Base elevation: 122m
Summit elevation: 532m
Vertical: 410m
Avg. snow depth: 160cm
Season: early-December to end-March
+ Ski passes & Operation Hours
1 day (8 hour): 3800
1/2 day (4 hour): 2600yen
Weekdays: 9:00am-5:00pm
Weekends/holidays: 9:00am-5:00pm
Night riding: Yes; mid-December to end-February, 4pm-8pm
+ Access
Nearest town: Otaru
Nearest train station: Otaru JR
Car: 5km from Otaru IC, off Road 956 (Otaru Loop Route)
Public ski bus: Yes, Chuo bus, Otaru JR station
*Car recommended: No
Otaru Tenguyama Snowtrip Tips
Snowtrip Tip 1, Catch the Tenguyama Ropeway Chuo ski bus
Take the Chuo Bus from Otaru JR station at bus terminal #3. The ride takes less than 20 minutes with fares costing only 210yen/pp (110yen/child). Be sure to catch the first bus at 8:35am as the next bus won`t get you there in time for first tracks.
Snowtrip Tip 2, Ride on a weekday morning
This normally goes without saying as weekdays will always be less crowded aside from busy holiday periods. But Mount Tengu defines the term "crowdless slopes" and truly makes for an unhurried, calm riding experience mid-week. Have you ever had an entire ski area to yourself? No? Give Tenguyama a try on a Wednesday and see what it feels like…surreal fun.
Snowtrip Tip 3, Pow with the big boys by day, more pow with the little guys by night…

Shred the fluffy goodies at Kiroro or Niseko during the day, head to Otaru for an Otaru Brewery beer with some of the best seafood you`ll ever eat in your life, then hop on the Tenguyama Ropeway for a couple hours of fun night riding. Night skiing & snowboarding tickets only cost 1500yen with night operations normally running from mid-December through end-February, 4pm-8pm.