Lodging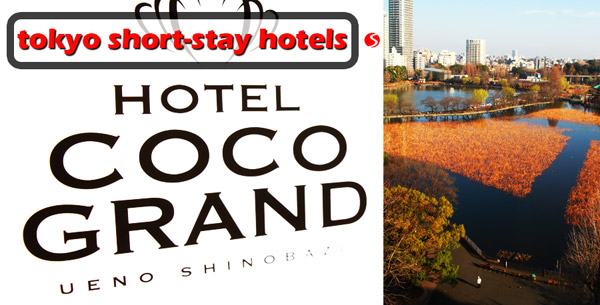 Published on October 11th, 2013 | by Japan Snowtrip Tips
0
Short-stay hotels in Tokyo – Coco Grand Ueno Shinobazu
Coco Grand Ueno Shinobazu
Summary: The Ueno area of Tokyo has a lot to offer, not least of which is accessibility to/from Narita Airport via the quick, comfortable Keisei Skyliner. Only a few minutes walk from Keisei Ueno Station, the Coco Grand Ueno Shinobazu is a great option with amenities for a night or two in Tokyo.
A stop-over at the Coco Grand Ueno Shinobazu will help you fight jet-lag before heading out of the city for Japowder adventures, while placing you in the heart of one of the capital`s vibrant cultural & entertainment districts.
Located less than 10-minutes by foot from JR Ueno Station and only 5 minutes from Keisei Ueno Station, the Coco Grand makes it easy for you to explore one of Tokyo`s energetic neighborhoods then access either Narita Airport or Japanese snow regions throughout main Island Honshu.
Rooms at the Coco Grand Ueno Shinobazu are affordable, clean, comfortable and provide the little amenities expected from a stylish urban hotel.
Pretty views overlooking the park, indoor spa and very good breakfast add to the appeal of this excellent short-stay hotel in Tokyo.
The Coco Grand Ueno Shinobazu is well-positioned on Shinobazu dori in Tokyo`s Taito neighborhood, delivering wonderful views of Ueno Onshi Park from the upper floors.  It provides convenient access to public transport, shopping, food, museums & entertainment while maintaining a quieter aspect (facing the park) compared to the bustle of urban excitement on the streets behind the hotel.
You can easily find the Coco Grand Ueno Shinobazu by exiting from either the main JR Ueno Station or Keisei Ueno Station onto Chuo dori. Follow Chuo dori (Main Street) until you see McDonald`s, then veer right onto Shinobazu dori. The hotel is another minute up the road on the opposite side of the street from the park.
Address: 2 Chome-12-14 Ueno, Taito, Tokyo
Phone: +81 (0) 3-5812-1155
Web (Japanese only): http://www.cocogrand.co.jp/uenoshinobazu/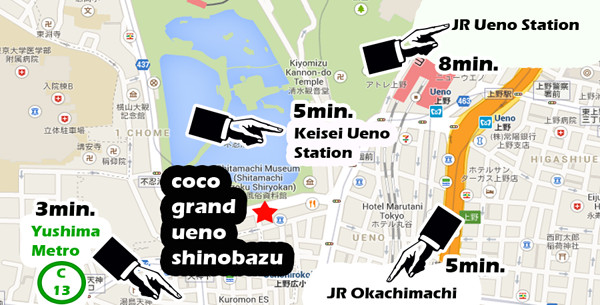 Tokyo-Ueno Snowtrip Tips
Snowtrip Tip 1: NRT + Keisei Skyliner + Coco Grand Ueno Shinobazu is a convenient combo.
The Coco Grand Ueno Shinobazu is a smart choice especially if you plan to ride the Keisei Skyliner between the capital and Narita International Airport.
Your JR Pass is valid on the Narita Express (approx. 1.25hrs) linked to Tokyo Station, while the Keisei Skyliner (40min., 2400Y/pp, JR Pass not valid) connects NRT with Keisei Ueno Station only a few minutes walk from the hotel. The JR option is cheaper (with a JR Pass) but requires a lengthier transfer of around 45-minutes more total travel time. Regardless, both Narita Express & Keisei Skyliner are reliable ways to go between city-center &  flight check-in counter at Narita Airport.
Snowtrip Tip 2: Ueno night & day…a tale of two neighborhoods
Take a stroll under the sunshine through Japan`s first designated urban park, Ueno Onshi Park (Shinobazunoike). Also be sure to catch a glimpse of "the last samurai," Saigo Takamori, immortalized in a large sculpture up the steps behind Ueno Station. When the neon glow of night-time Ueno is in full-force, head out to the bustling shopping & entertainment streets.There`s a lot to see, eat and buy, but keep in mind that the red & pink-hued glow from businesses between Ueno Station and JR Okachimachi Station are selling something for adult eyes only. If you`re looking for something suitable for everyone`s eyes that could be useful for the long flight home, we recommend going to the bookstore in Ueno Station. There`s an English-language section worth browsing, as English-language books are hard to find in most parts of Japan.

Snowtrip Tip 3: Eat like a pig in Ueno.
More aptly, eat like a pig while eating pig. Musashino is a local`s favorite tucked away in the neon side streets of Ueno`s red-light district serving delicious (giant) fried pork filets & prawns. Dinner with a Sapporo beer is only ¥1500/pp.