Sapporo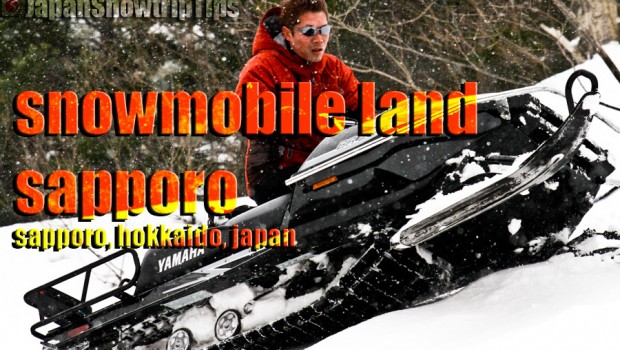 Published on July 8th, 2013 | by Japan Snowtrip Tips
0
Snowmobile Land Sapporo: throttle-up your Japan snow trip
Snowmobile Land Sapporo
Summary: Snowmobile Land Sapporo offers super fun snowslider side trips easily accessible from downtown Sapporo by private shuttle, taxi or public transport. A day zooming along the trails with Snowmobile Land Sapporo ranks as one of our top sportive activites off the ski slopes in Western Hokkaido.
4.5
Almost downtown but a world away
Set aside your wooden planks and ride your 250cc horsepower Yamaha on beautiful tree-lined snowmobile trails above Sapporo city.
Whether it`s a bluebird day offering magnificent views or a low-visibility ride through a blizzard protected by thick forest, Snowmobile Land Sapporo is one of our top recommendations for fun, affordable, sportive action off the slopes in Western Hokkaido.
All riding gear is provided including warm pants, coats, boots, gloves and helmets. Everyone age 16 or above can get out on the trails accompanied by a friendly, experienced guide. English language guidance is limited, but there is enough English spoken on a basic level by a few of the guides to keep you informed.
You`ll start by making a few laps on a safe, short, circular course until the instructor feels confident that you`re able to control your snow machine. Afterwards, it`s away you go along twisty trails snaking through the woods for up to 35 kilometers. Snowmobile Land Sapporo accesses 90 total kilometers of trails and claim to be one of the largest snowmobile operation outside of North America.
Snowmobile Land Sapporo Access

Private transport access (20-30 minutes): Taxis are available from the city, but we recommend trying to reserve spots on the FREE private shuttle offered by Snowmobile Land Sapporo departing from downtown Sapporo. There is a primary shuttle pick-up/drop-off point was the Century Royal Hotel which is accessible via underground passage from Sapporo Station from the West gate (Apia West, "Joyful Walk" passage). Pick-up/drop-off points should be verified by calling Snowmobile Land Sapporo directly. Also note that these shuttles are shared with other guests, so if they booked a longer snowmobile ride than you, you`ll have to wait around for a bit until they finish their ride.
Morning shuttle reservation

: between 9-10AM, return Sapporo location 1:30-2:30PM

Afternoon shuttle reservation

: between 1:30-2:30PM, return Sapporo location 5:30-6:00PM
Public transport access (60 minutes): The following steps indicate the recommended public transport route to Snowmobile Land Sapporo from Sapporo Station
Nanboku line to Odori subway station.
Tozai line from Odori subway station to Kotoni or Hassamu Minami subway station.
from Kotoni or Hassamu Minami bus station tak bus no.41 (Nishino Fukui-line) to Fukui Entei Mae (last stop).
Walk up the road about 200 m to Snowmobile Land Sapporo on the right.
*Alternative from Sapporo train Station to Kotoni train Station and from there follow step 3 and 4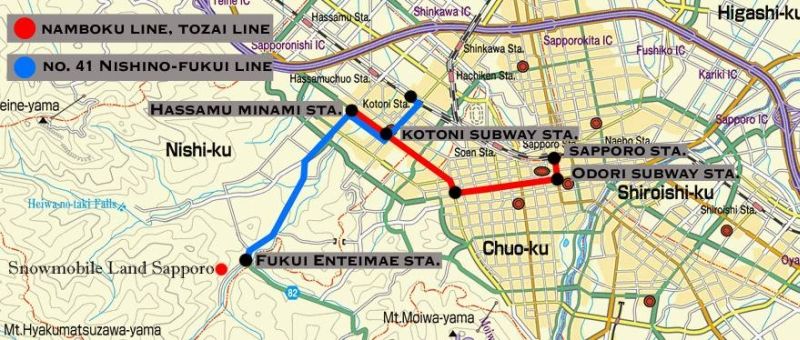 Address: Fukui 478, Nishi-ku, Sapporo, 063-0012 Contact: 011-661-5355 (Japanese speakers only) Website:

http://www.snowmobilelandsapporo.com/website/

*English speakers please make reservation via email or hotel reception ( english.info@snowmobileland.jp )
Snowmobile Land Sapporo Hours & Prices

Snowmobile Land Sapporo Operating Hours: 8:30AM-5:00PM, December into March; *Reservations required
Snowmobile Land Sapporo Prices: You`ve got two options. Both are great but as in all winter sport activities, weather dictates a lot of the action. On sunny bluebird days don`t hesitate to opt for the longer course as it provides more distance and more solitude. On a less than perfect day, the shorter course is plenty of fun and will keep you smiling no matter what.
No. 1 Hot Pick: 10,000yen; 20-25km; 60min
No. 2 Cool Pick: 13,500yen; 30-35km; 90min.
Snowmobile Land Sapporo Official Policies


course change may occur due to snow conditions
an instructor accompanies riders on all courses
no drivers license is required; 1 rider age 16 or older per machine
passengers are half price (as driver changes are prohibited during the course)
groups of 2 require 2 machines
groups of two or more are generally required on busy days
Snowmobile Land Sapporo Official Safety Notice

Steering becomes heavy when 2 people ride together. There are hairpin turns & 90° (switchback) turns which can be dangerous. Please abide by the following rules:
Women rider pairs not permitted
If man & woman riding together, man must drive
Driver changes prohibited in middle of course
Snowmobile Land Sapporo Snowtrip Tips
Snowtrip Tip 1: Shred Japanese pow on skis, snowboards & snowmobiles all day long
There`s no need to skip a day on the slopes to ride on the trails with Snowmobile Land Sapporo. You`ve got tons of skiing & snowboarding options near Sapporo to help you get your pow fix. For example, you can ski or snowboard in the morning for a half day of chilled-out, uncrowded freshies at Otaru Tenguyama or even until 11AM at pow-filled Kiroro then make it to Sapporo in time for your private/public transport to Snowmobile Land Sapporo. Otherwise, you can play on your snow machine in the morning or afternoon, then head over to Teine Olympia for night shredding.
Snowtrip Tip 2: Seeing helps on twisty trails
It`s not required or necessary, but we recommend bringing along your own set of goggles. The visors on the helmets are fine if the weather is perfect, but keep in mind this is Japan we`re talking about. You`re probably more likely to snowmobile in less than perfect conditions, so a good pair of snow goggles will help. We also suggest bringing your own set of gloves as cold hands will ruin your time.
Snowtrip Tip 3: Ruin their gear not yours
After accounting for your own goggles (and maybe gloves), we highly recommend wearing the clothing provided. Aside from potentially getting drenched if it`s snowing or raining, you could get oil or grease from the snow machines on your fancy gear. Everything is included in the price so why not trash their coats and pants instead. Besides, when you see some of the purple one-piece snow suits available you`ll be begging to put one on!
Snowtrip 4: Smile the entire time, but take it seriously
The 250cc Yamaha`s in the Snowmobile Land fleet aren`t the most powerful beasts, but there`s enough horsepower and weight to seriously injure you or others. Have a blast but be aware that course conditions can make it tough to steer if the snowpack isn`t perfect. There are tons of tight turns and elevation changes that require full attention for your safety and the safety of those riding with you. You might want to go a little faster than some of the guides, but stick together. If you`re in a small group just give yourself enough space so you can occasionally throttle-up and let `er rip down the straightaways!
Snowtrip 5: Always remember your Japanese snowmobile adventure
A pro photographer with a DSLR camera will rattle-off high-speed action frames of you zipping by on your snow machine at a couple different points along the trail. For only ¥1000-2000, you can take home excellent printed images of your snowmobile excursion in Hokkaido. Don`t be cheap! Drop a few worthwhile JPY, support the hard working photog and bring home a memory that`ll make you smile every time you look at it.