Teine Olympia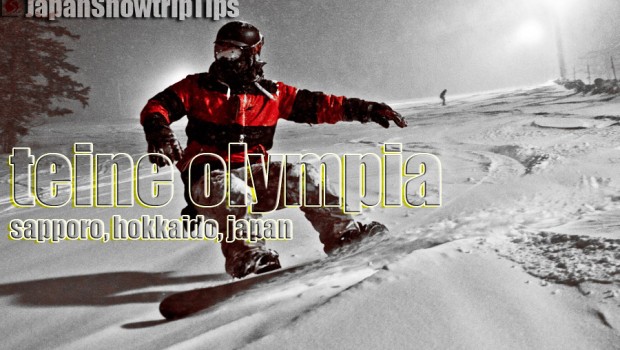 Published on April 16th, 2013 | by Japan Snowtrip Tips
0
Teine Olympia Ski Resort, Sapporo, Japan- Night skiing in Hokkaido`s Olympic heart
Teine Olympia Night Riding Review
Summary: By day, Mount Teine is home to some of Sapporo`s steepest lift accessed terrain at Teine Highlands. In the evenings, the flood-lit slopes of smaller, family-friendly Teine Olympia provide skiers and snowboarders an easy, enjoyable, compact forum for fun-filled late-night Hokkaido powder turns.
3.5
Small terrain, big smiles
Sitting below its bigger, badder sibling — Teine Highlands (1023m) — the slopes at Teine Olympia are perfect for beginners & intermediates when Mother Nature`s light-bulb is shining.
Likewise, as the sun goes down and man-made bulbs illuminate the trails, Teine Olympia is equally nice for snow sliders of all abilities looking for mellow good times with friends under the lights.
Named for the site of the Olympic torch during the 1972 Winter Games, Olympia doesn`t offer all that much in terms of night riding terrain.
But anyone who`s gone riding under the lights knows it doesn't take much to have a good time.
Easy public transport access, cheap lift tix, well-lit slopes, minimal weekday crowds and chilled-out vibe make a stealth mission to Teine Olympia a fun, worthwhile evening adventure during your snow trip to Sapporo.
Teine Olympia On-piste Night Skiing & Snowboarding

Beginner: The majority of pistes at Teine Olympia are rated for beginners day or night. During night skiing hours, there is one officially open beginner piste, Trail O2, while Trail O3 is unlit (albeit providing an unsanctioned bit of pitch-black enjoyment ending at the same lift station).
Intermediate: Exit Chair A to the right (it`s the only lift operated at night so no chance of being confused). Continue along a very dimly lit flat section past the carnival Ferris wheel (yes, you read that correctly) then head down the red-rated intermediate Trail O4.
Advanced: There are no trails in Olympia Teine`s night skiing operations rated black. During the day, Trail O6 to riders-far left carries a black designation and drops away at 38°.
*During good weather nights, there is a fun little terrain park open that caters to varying ability levels.
Teine Olympia Off-piste Night Skiing & Snowboarding

You`ll want to save your off-piste skiing or snowboarding adventures for the day time above Olympia at Teine Highlands. But there are some short, mellow, fun unlit tree sections flanking both sides of wide intermediate Trail O4 at Teine Olympia. However these areas are officially off-limits. But if you`re up for a stealth mission in area N3 (with a headlamp and extreme caution), you`ll funnel toward the main flood-lit area of the official night skiing portion of Teine Olympia without any navigational worries. We cannot officially or unofficially confirm or deny this recommendation. You can decide for yourself without any guarantees for your safety, but we can guarantee that Olympia resort managment won`t like it so you take it from there…
Teine Olympia Night Crowds

Sapporo is a "small" Japanese city of 1.8million, so it`s a toss up whether or not you`ll be standing in lift lines all night or lapping the chairlift effortlessly basking in artificial sunlight & fresh pow. But if you`re willing to ride in less than perfect winter night-time conditions with wind & snowfall, you`ll likely have the place to yourself as Sapporites normally wait for nicer weather evenings following a long day at the office. Sapporo is full of students and young professional so weekend warriors love nothing more than to cram together on-piste. Use caution if you plan to go to Teine Olympia for night skiing (or during daytime hours) on weekends as it can get busy.
Teine Olympia Night Ski lifts

There are a handful of lifts accessing the Olympia pistes, but to our knowledge only the Shirakaba Double Chair #1 operates at night (last chair ride 8:45pm, closes 9pm). It is possible that the Shirakaba Double Chair #2 could be operational as well, but in our experience this is a management decision based on weather. The Shirakabe Double Chair #1 is pretty slow and can turn a seemingly short uphill into a frostbitten nightmare if you`re not bundled up properly. But the music, empty chairs in front/behind and smiles from your riding partner(s) will definitely warm you up.
Teine Olympia Night Snow

The best in terms of terrain & snow quality is up above in the Highlands. But it`s certainly not uncommon to get some enjoyable freshies on the little lit-up slopes at Olympia. All in all, the snow quality is very good at Olympia and in our experience, there wasn`t any artificial junk from snow cannons on the ground…only 100% natural Hokkaido pow.
Teine Olympia Mountain Stats & Ski Trail Map
+ Terrain
Beginner: 60%
Intermediate: 25%
Advanced: 15%
# of Runs: 8
Longest run: 1700m – Rainbow trail (day), 520m- Sunshine trail (night)
+ Elevation & Snowfall
Base elevation: 350m
Summit elevation: 530m
Vertical: 180m
Avg. snow depth: 260cm
Season: early-December to end-March
+ Ski Passes & Operation Hours
1 day: 4800yen
6 hour: 2600yen
4 hour: 3500yen
2 hour (Seniors only): 2800yen
single ride: 350yen
Weekdays: 9:00am-5:00pm
Weekends/holidays: 9:00am-5:00pm
Night riding: Yes; early-December to end-March, 4pm-9pm, 1800yen
*child & senior discounts available for all ticket ranges
+ Access
Nearest town: Teine (Sapporo)
Nearest train station: Teine JR
Public ski bus: Yes, from Teine JR station, 20 minutes
*Car recommended: No
Teine Olympia Snowtrip Tips
Snowtrip Tip 1, Catch the JR bus to Teine Olympia
If you`ve got a Japan Rail Pass hop on the JR bus at Sapporo Station (50 min.) or Teine Station (20 min.) for a free ride to the ski hill. When the ski-lifts shut down at 9pm, don`t get left behind! Keep your eyes peeled for the JR bus that arrives in the parking lot to the left of the North Maple Restaurant (same place it dropped you off).
Snowtrip Tip 2, Ride on a weekday, at night, in a bloizzard

Unlike Europe or North America, Japan isn`t a ski-crazed country, which keeps the slopes relatively uncrowded outside of holiday periods. However, Sapporo is just too populated (1.8 million) for Teine Olympia to hide from the masses. Olympia has excellent beginner terrain which attracts tons of kids and families on weekends, but night skiing & snowboarding during a weekday is definitely a safer bet to beat the crowds. Likewise, you can have the Teine Olympia slopes all to yourself in the venings when the weather isn`t great as most Sapporites would rather stay warm at an izakaya in Sapporo`s Susukino neighborhood.
Snowtrip Tip 3, Ride when it`s nasty and wear cold-weather gear
If you want to play in Japan`s deep pow, you`ll need to bundle up. The weather can get wicked on the northern Island, especially when the sun goes down.  If you don`t have a solid weather-proof riding jacket with a hood, as well as face-mask, you should invest before your Japan skiing & snowboarding trip.