Guides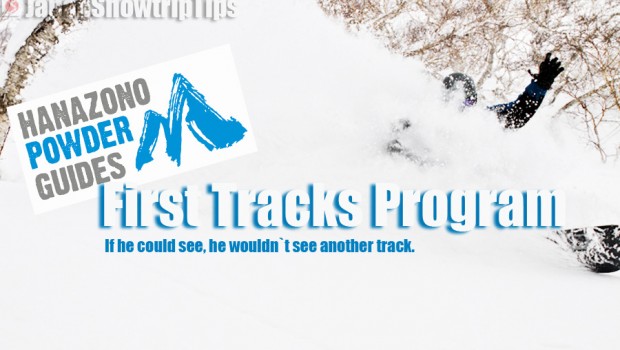 Published on May 19th, 2014 | by Japan Snowtrip Tips
0
Hanazono Powder Guides First Tracks: Niseko backcountry skiing & snowboarding before the drunk Australians wake-up
Hanazono Powder Guides - Niseko
Summary: Hokkaido`s largest ski resort, Niseko United, has become synonymous with two things over the last couple of decades: 1.) some of the world`s deepest easy access powder lines and 2.) some of Japan`s most crowded deepest easy access powderlines. If you want to avoid the latter and revel in the first, book a backcoutnry skiing & snowboarding tour inside or outside the gates with Niseko`s only resort operated backcountry guide service, Hanazono Powder Guides (HPG).
4.7
Niseko`s backcountry leaders
There are a few qualified backcountry skiing & snowboarding guide companies accessing terrain in-and-around Hokkaido`s largest ski area, but Hanazono Powder Guides is Niseko`s only resort-owned guiding outfit.
Why`s that important for you as a snow-starved lunatic in one of the most prolific powder zones on the planet? Because HPG will not only help you discover Niseko`s famous faceshot fall-lines all day long, but they`ll get you started while everyone else is still asleep from their Hirafu hangovers.
As Niseko Hanazono Resort owns Hanazono Powder Guides, HPG has the sole right to take guests up the lifts for early morning runs 1-hour before chairs are officially open to the public. HPG`s unique First Tracks Program guarantees exclusive access to overhead freshies for you and your friends while everyone else literally stands in a lift queue waiting for the gates to open.
Likewise, HPG`s tight connections to Niseko ski patrol and other Hanazono mountain operations entities gives them a clear understanding of snow conditions on the hill, ultimately ensuring a safety-conscious approach to exploring Niskeo`s powder filled sidecountry & backcountry.
The Hanazono Powder Guides First Tracks Program is included in the price of most HPG tours, but those opting for 1/2 or full-day group tours that exclude the 7:30AM lift rides would be wise to pay the minimal 2,000Yen/pp fee to exponentially enhance their Niseko backcountry experience from (early) start to finish.
Hanazono Powder Guides offers group and private Niseko skiing & snowboarding tours for varying ability levels in-bounds and outside the ropes.
Choose an in-bounds tour across all 4 Niseko United Resorts, half & full-day backcountry tours emanating from Niseko`s highest points atop Annupuri & Hirafu Peaks, multi-day Powder Dayz Tours that stretch your faceshots over 5 full days and Pow Package Tours that allow you to test different skis/boards during your group adventure.
*next tab for HPG  First Tracks Program info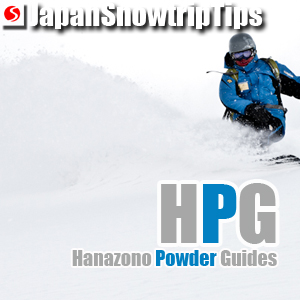 The HPG First Tracks Program is something very special at Niseko and is only available via HPG because of their unique ownership structure under Hanazono Resort.
The First Tracks service opens the lifts exclusively for you at 7:30 AM, 1-hour before anyone else can go up the mountain. First Tracks are included in all Private Tours (1/2 & full-day), Powder Dayz Tours, Pow Package Rental+Backcountry Tours and can be added into all Group Tours for only 2,000Yen/pp. First Tracks sessions must be reserved by 4PM (preferably sooner) one day prior to your tour.
*next tab for HPG  Access & Contact info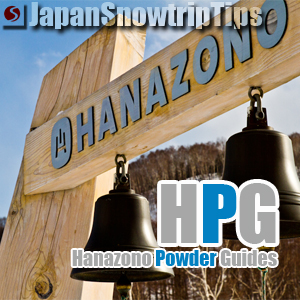 The Hanazono Powder Guides office is located in the Hanazono 308 lodge at the base of Niseko Hanazono Ski Resort. There is a convenient free Hanazono shuttle bus daily from 7:50AM until 5PM between Hirafu Village & Hanazono with departures approx. every 20 minutes. Pick-up & drop-off is directly in front of the HPG office door at 308. *Note: The free shuttle will NOT arrive early enough for First Tracks but can get you home at the end of the riding day.

Official site: Hanazono Powder Guides
Email: HPG@harmonyresorts.com
Tel: +81 (0)136 21 6688/Fax: +81 (0)136 21 6657
Hanazono Powder Guides Snowtrip Tips
Snowtrip TIp 1: Jealousy isn`t very nice, but creating it on a powder day is.
Every powder junkie knows that twitchy feeling as you wait for the first chair up the mountain to snag untouched freshies. But what if you could do it without having to wait anxiously with a crowd of other powder freaks all racing to slash the first early morning line? HPG First Tracks helps you beat the powder rat race.
Trust us, it never felt so good to have a line of shocked powder junkies collectively stare-a-hole right through us as we came cruising back to the lift covered in blower pow from empty early morning Hanazono slopes, only to slide right past them, hop on the chair-lift and do it all over again (three times) before anyone else could access the goods. Take our advice. Have the last laugh. Be first with HPG First Tracks.
Snowtrip Tip 2: The First Tracks Program is great for in-bounds freshies before everyone else, but it`s also great for out-of-bounds faceshots before the others too.
You`ll easily cycle the lifts a few times for epic in-bounds Niseko Hanazono Resort pow thanks to the HPG First Tracks Program. But if your timing is right — or if you reduce your number of early morning in-bounds laps — you can also be the first to ascend Annupuri or Hirafu Peak, ensuring untouched sidecountry & backcountry Niseko pow lines that`ll greatly increase the jealousy of those unlucky, non-First Trackers.
Snowtrip Tip 3: Niseko = epic pow. Niseko ≠ bluebird skies.
Fifteen meters of annual snowfall accumulation doesn`t leave a lot of room for clear skies to peek through during wintertime in Western Hokkaido. It can literally snow every day for months…not month…months…meaning that you need to be prepared for skiing & snowboarding in likely cold, windy, low visibility conditions. Bring the right goggles, wear a facemask, don`t forget your powder skis/board and likely be ready for at least one down-day of simply chilling in the onsen. Chances are you can leave the sunscreen at home during mid-winter in Niseko but you`ll quickly discover that the sun is highly over-rated when snow is billowing overhead during daily pow submersions inside & outside the Niseko boundaries.
Snowtrip Tip 4: You can leave your split-board and snowshoes at home, but poles are necessary.
One of Niseko`s greatest attributes — aside from monumental annual snow totals — is that tons of sidecountry & backcountry runs are easily accessible from lifts with minimal hiking involved. Couple that with the fact that HPG is staffed with skilled, knowledgeable pros who know where all the Niseko pow stashes are and you`ll usually never need to hike for more than 20 minutes (if at all) to find the goods. However, some of the return trails from out-of-bounds can be very tough for snowboarders because of flat spots and traverses. The vertical meters you`ll get on the way down (often upwards of 1000m) are absolutely worth it, but we strongly recommend all snowboarders bring sturdy collapsible poles to help push through flats on the way back in-bounds.
Snowtrip Tip 5: Stay in style, but still have cash left over to hire a guide at HPG.
The newly built (2013) Kizuna Niseko Apartments offer modern luxury, easy access to on & off slope action and a free shuttle bus from outside the front door that`ll get you directly to/from the Hanazono Powder Guides office at the Hanazono Ski Area base, 308 Lodge. Did we mention that Kizuna`s brand of modern luxury includes enough left-over Yen to book a guide, drink your face off and basically live-it-up like you know you should on a ski holiday to Hokkaido, Japan? Kizuna is one of our top recommendations for Niseko Japan ski resort lodging and in our view ranks as one of the best overall ski apartment values in Japan.