Ski Shops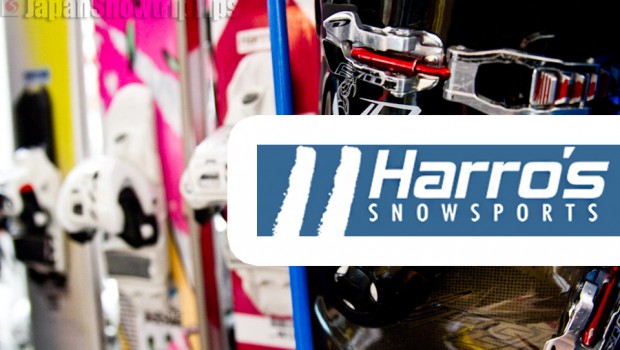 Published on October 6th, 2014 | by Japan Snowtrip Tips
0
Harro`s Snowsports – Niseko Hirafu Gondola ski & snowboard hire shop
Harros Snowsports - Niseko, Japan
Summary: Shop owner, David Harrison, and his staff have decades of combined experience operating ski & board shops in Australia and Japan. Prices are fair, gear is solid, location is great and vibe is friendly making it one of our top recommendations for ski rentals in Japan`s livliest shred spot, Niseko Hirafu, Hokkaido, Japan.
4.4
Hirafu Gondola Rentals w/out the Crowds
There are quite a few quality ski and snowboard hire shops in Niseko, so its no surprise that Harro`s Snowsports, located nearby the Hirafu Gondola, delivers a great rental experience.
Along with excellent location near the base of the Hirafu Gondola station, Harro`s is stocked with a nice selection of late-model powder skis & boards for deep pow junkies, on-piste-cruisers and freestylers.
It`s not the biggest shop, nor is it over-flowing with the most insane gear, but Harro`s is a Niseko ski & snowboard rental shop that does it right.
Retail accessories aren`t the strong-suit of Harro`s, however you`ll find just about every necessity to get you sliding on the snow efficiently & safely.
Pop in, grab your well-serviced rental gear, then hop on the Hirafu Gondola just up the road while everyone else is still standing in line to get their ski poles.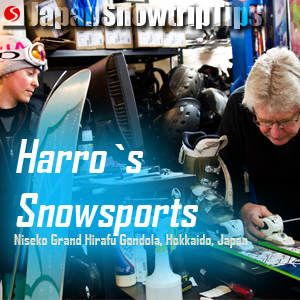 HARRO'S SNOWSPORTS
183-20 Aza-Yamada Kutchan-cho, Abuta-gun,
Hokkaido Japan 044-0081
International: (+81) 136 21 7725
Japanese mobile: 0806 065 6806
Skype: harrosnowsports
Email Harro`s directly here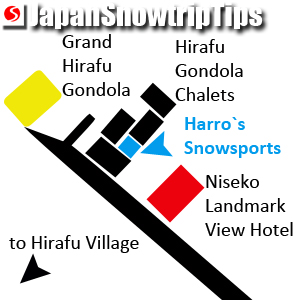 Harro`s Snowsports is part of the Gondola Chalets lodging complex. After you pass the Niseko Landmark View Hotel, turn right and you will see the entrance to Harro`s. The shop is only 100 meters from the entrance to the Hirafu Gondola.
Harro`s Snowsports Snowtrip Tips
Snowtrip Tip 1: Harro`s has gear for all shapes and sizes of riders but we especially like the pow sticks for ladies.
All types of riders are catered to at Harro`s, but we were impressed with the line-up of solid ladies all-mountain powder skis. Top brands, well-serviced and pink. Sold.
Snowtrip Tips 2: Kizuna short-cut.
Stay at the prime Kizuna Niseko ski apartment, walk to Harro`s in less than 10 minutes along the main gondola road, rent your gear, then hop on the Hirafu Gondola in less than 25 minutes door to door. There`s actually a shortcut that can cut your walk to/from Kizuna and Harro`s in half, but it can be difficult to find if the snow is piled up too high (which is likely). You can find it on the detailed village map you pick up from the visitors center.
Snowtrip Tip 3: HPG = POW
Harro`s Snowsports is located near the base of the Hirafu Gondola (Grand Hirafu Ski Area), but it`s easy to meet-up with top Niseko backcountry ski guides on the other side of the mountain, Hanazono Powder Guides. Ride-up the Hirafu Gondola for 8 minutes, quickly slide over to the Swinging Monkey two-seater chair, then from the top drop to riders left onto  Parallel (red trail). Cruise to the bottom until you find the HPG offices in the great Hanazono 308 lodge.