Arts & Crafts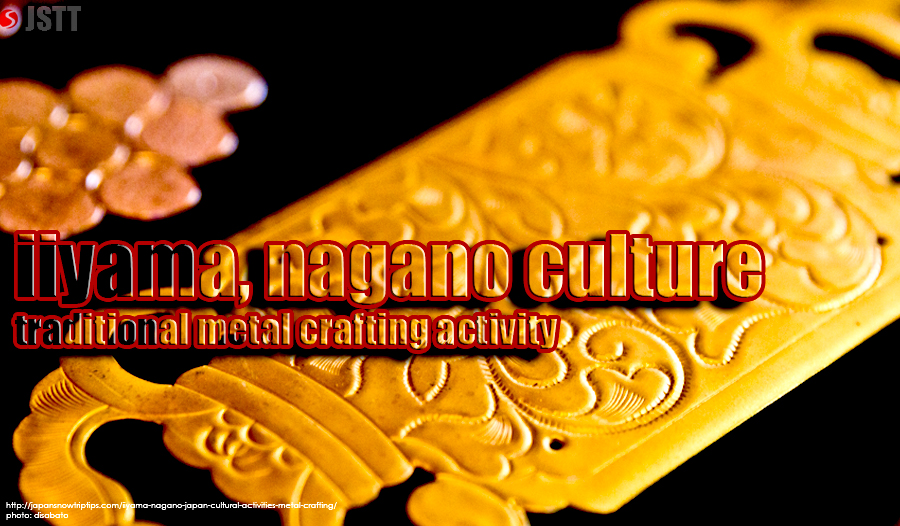 Published on April 29th, 2014 | by Japan Snowtrip Tips
0
Iiyama, Nagano, Japan Cultural Activities – Metal Crafting fun for the whole family
Iiyama, Nagano Metal Crafting
Summary: There`s a lot more to do in snowy Nagano than ski. Iiyama is a city of temples and history, known as the "little Kyoto of snowcountry" for its artistic heritage. So why buy souveneirs in such a creative place when you can make them yourself? Design custom rings, bookmarks and key chains under the direction of a local master craftsman for less than the price of a soulless trinket in a Tokyo gift shop.
For nearly 50 years, master craftsman, Mr. Washimori, has been regularly commissioned by the Japanese government to design beautiful custom metal fittings for Buddhist Altars — significant spiritual relics with centuries-old fabrication roots in the Iiyama region.
Following years of mentoring aspiring artists from around the country, he`s recently begun offering his five decades of knowledge (and fun personality) to visitors via 1.5 to 2-hour sessions where guests of all ages can design their own rings, copper bookmarks, key chains and other small ornamental metal pieces.
These metallic mementos make excellent keepsakes of your travels in Japan or equally wonderful gifts to bring back to the unlucky ones who didn`t have the chance to spend time with one of Iiyama`s top artists.
After you`ve completed your design by hammering shapes and patterns into your chosen metal medium, Mr. Washimori will make sure it`s shaped properly and finely polished to be worn, used or displayed fondly.
The Iiyama metal working activity requires a bit of manual dexterity as you`ll need to handle a small mallet with die-cut impression punches, but it`s unquestionably one of the most enjoyable cultural craft experiences we`ve participated in during our powder travels.
Immersion in off-slope culture during your snow trip to Japan creates meaningful memories that often stick with you longer than reminiscence of random pow faceshots. We highly recommended that every Nagano snow tripper step out of their bindings and step into Mr. Washimori`s world for this affordable, fun hands-on activity.
Iiyama Metal Craft Workshop Access
Mr. Washimori`s workshop is located at the head of Buddhist Altar Street (Atago-machi), 10 minutes by foot from JR Iiyama Station. The Iiyama metal working activity is conducted in Japanese, but an English language PDF document is available for download from the staff at the Iiyama Tourism Office. All metal working activity reservations are handled by the Shinshu-Iiyama Tourism Office. Contact them for inquiries or book directly at the following email, info@iiyama-ouendan.net SUBJECT: metal craft booking
Iiyama Metal Craft Activity Hours & Cost

Hours: 9am-5pm (after hours requests possible with advance notice); metal working sessions normally run for 1.5 to 2 hours
Groups: Normal group sizes at Mr. Washimori`s home workshop are 2-10 people. Larger groups upwards of 50 people can also be accommodated at a larger facility in Iiyama City.
Prices: Variable based on design item and group size; Rings ¥2000/pp, Bookmarks ¥1500/pp, Key chains ¥1300/pp
Iiyama Metal Craft Snowtrip Tips
Snowtrip Tip 1: Art is the universal language…
Don`t be scared away by the language barrier. Mr. Washimori is a kind, good-humored man who will make you feel like an old friend immediately. In actuality, the metal crafting activity is easily followed via visual instruction as it is a hands-on session. Smiles, laughs and creativity are the only forms of communication necessary to enjoy the experience. The PDF you can request from the Iiyama Tourism Office will also provide adequate information to alleviate any uncertainty.
Snowtrip Tip 2: If at first you don`t succeed…
After a lifetime of metal crafting, Mr. Washimori understands that practice makes perfect…and perfect doesn`t usually happen with your first mallet strike into metal. You`ll have a bit of time to play around and get accustomed to the process by hammering away on a "practice piece" of copper before deciding on your final project. We recommend experimenting with different sizes & shapes of die punches trying to make the "perfect sound" with your hammer-strikes for around 20 minutes. Afterwards, decide what your design will look like, ultimately focusing the remainder of your time on completing your true finished product. Keep in mind that similar to time, materials are not unlimited. You`ll have plenty of time for practice but once you begin crafting your final design it is not customary for people to attempt re-designs if they screw up on the first one. Mr. Washimori is a patient, friendly man so he`d probably allow you to start over from the beginning, but we can`t guarantee it. Likewise, we think it would be a bit disrespectful so if your design doesn`t end up the way you originally had hoped, just enjoy the unique cultural experience for what it is… a unique cultural experience.
Snowtrip Tip 3: Make a ring then make a postcard…
With so many cool (and incredibly affordable) cultural crafts offered in close proximity to one another in Iiyama City we recommend experiencing a few during your snow trip to the Iiyama, Nagano region. Along with Mr. Washimori`s rewarding metal working activity, head toward the center of town to create your own postcards or bookmarks in the traditional paper making style that has been famous in the Iiyama region for centuries. Otherwise, if you`re a booze aficionado, why not discover one of Nagano prefectures` best sake breweries with a sake tour & tasting at the Kadoguchi Sake Brewery.
Snowtrip Tip 4: Iiyama is the perfect place to mix cultural excursions with powder submersion…
Experiencing Iiyama`s centuries-old artistic heritage is something every snow tripper should enjoy, but let`s face it…you`re in Nagano for the pow! Take your pick from Iiyama`s three fun, family friendly, snow filled ski resorts — Madarao Kogen, Tangram Circus and Togari Onsen — to get your snow sliding fix day and night whether you prefer deep off-piste Nagano pow or manicured trail cruising.