Arts & Crafts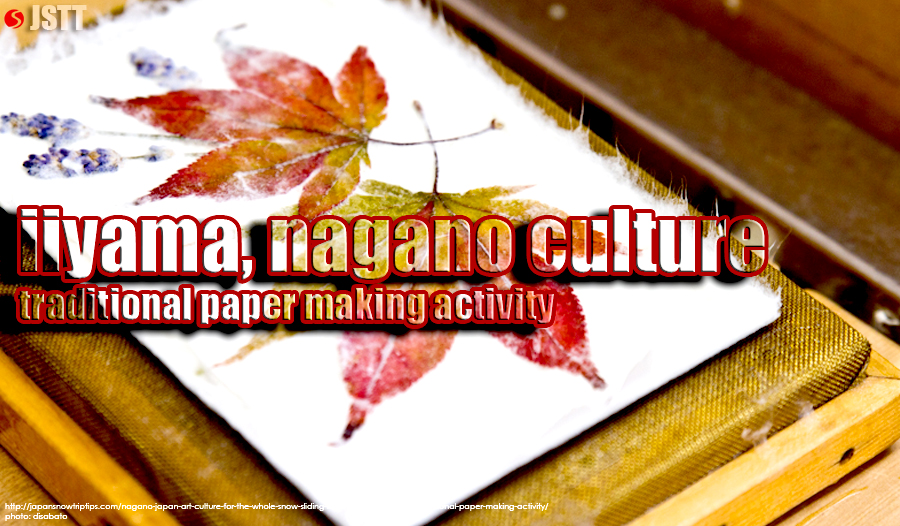 Published on September 18th, 2014 | by Japan Snowtrip Tips
0
Nagano, Japan art & culture for the whole snow-sliding family – Uchiyama-gami traditional paper making activity
Iiyama Paper Making Activity
Summary: Uchiyama-gami -- the regional Iiyama art of paper making -- dates back for centuries. For only a few hundred yen and few minutes of your time, you can be a part of the ancient artistic tradition too by hand-crafting your own unique paper products to share with loved ones or keep as momentos of a memorable Iiyama, Nagano, Japan cultural excursion.
4.5
Postcards are cool again
Handcrafting your own Uchiyama-gami (paper) is a fun, hands-on activity every snow slider will appreciate while visiting the "little Kyoto of Snowcountry," Iiyama, Nagano, Japan. Design custom postcards one-by-one or create 12 beautiful bookmarks using a multi-partitioned wooden divider.
Similar to the great Iiyama metal crafting activity, you don`t need to speak Japanese to enjoy the experience. If you`re able to follow simple visual explanations, share positive vibes and enjoy the chance to display a little personal creativity, you`ll love it.
You`ll be impressed by the beauty of your art as the activity is mellow for all ages (Michelangelo art skills not required), as well as impressed by the affordability for such a unique experience (210-620Y).
If you`re in a hurry, no worries, it only takes around 30 minutes to complete the activity. Otherwise take your time and create a bunch of different post cards to send from the nearby Iiyama Post Office. Better yet, let your new creations dry for a bit longer, then bring your hand-made mementos home to place in a frame on the wall.
Reservations aren`t required to create your own gami, so there`s no need to worry about sacrificing pow faceshots to enjoy this wonderful Iiyama City off-slope cultural activity at a leisurely pace.
Uchiyama-gami Paper Workshop, Iiyama City, Nagano, Japan

The Iiyama City Uchiyama-gami Paper Workshop is 10 minutes from JR Iiyama Station by foot. Our advice is to hire a taxi from the station (approx. 1500Y). There will likely be so much snow piled-up on the sidewalks, forcing you to dangerously walk along a busy road with impaired visibility for drivers due to high snowbanks. If you`re not sure which building to enter, look for the kozo bark (small tree that is stripped, dried, then soaked to become the raw material for uchiyama-gami) drying outside the main entrance. For questions contact the English-speaking Iiyama Tourism Office.
Uchiyama-gami Paper Crafting Hours & Cost

Although this is activity is perfectly suited to winter travelers, it is currently only offered on Saturdays from January-March as of 2014-15. Operations outside of ski season from April-December are on Tues-Sun. (closed Mondays & holidays). We recommend contacting the Iiyama Tourism Office to schedule in advance. It`s too cool of an experience to miss because of avoidable scheduling mishaps.
Hours: 10am-4pm, Cost: 1 postcard, 210Y / 12 bookmarks, 620Y
Uchiyama-gami Activity Snowtrip Tips
Snowtrip tip 1: Uchiyama isn`t a tourist gimmick.
Paper production in Iiyama can be traced back to the centuries-old agricultural roots of the region. Paper fabrication was a means for farmers to work during the winter and support their families. Similar to the other wonderful arts, crafts and cultural festivals indigenous to the Iiyama region, this practice was around long before the word "tourism" became synonymous with Nagano as a skiing & snowboarding destination.
Snowtrip Tip 2: Lucky for skiers & snowboarders in the Iiyama region, paper is fabricated best during winter.
Tororo oi - the liquid raw material additive used for water thickening in the uchiyama-gami process — is more effective in cold temperatures. This is why farmers made paper during the winter months instead of during hot, muggy Japanese summers that would prove detrimental to Tororo oi bonding.
Snowtrip Tip 3: The quality and durability of uchiyama paper is very special.
Snowfall is a blessing and a curse for Iiyama. Before skiers and snowboarders began finding a positive use for multiple meters of annual snowfall, Iiyama residents had to find a way to turn the desolation and isolation of harsh winters into a means for survival. The continuously flowing, pure Iiyama snow-melt has created a very strong and resilient paper variety due to mineral content in the water. Subsequently, uchiyama-gami has been used for shoji throughout Japan– sliding doors found in traditional Japanese architecture — for hundreds of years due to its durability.
Snowtrip Tip 4: Iiyama is one of those special Japan snowsports cities that makes you want to do more than just pass through to get to the powdery goods.
The historic medieval trade route town of Iiyama offers quite a few memorable hands-on cultural activities to go along with it`s 12 meters of annual snowfall piled atop the surrounding ski areas. Along with uchiyama-gami creation, you can craft custom metal momentos with a local master artisan or discover one of Nagano`s top sake breweries not far from the Iiyama city center.
Snowtrip Tip 5: Enough Iiyama arts & crafts? Start shredding.
Three fun, powder-filled ski areas reachable from Iiyama — Madarao Kogen, Tangram Circus &  Togari Onsen — are less than 30 minutes by car from JR Iiyama Station. If you don`t have your own wheels, ride the ski buses or utilize train+taxi combos that will easily get you to all of these ski areas during a week-long Nagano snow trip.