Madarao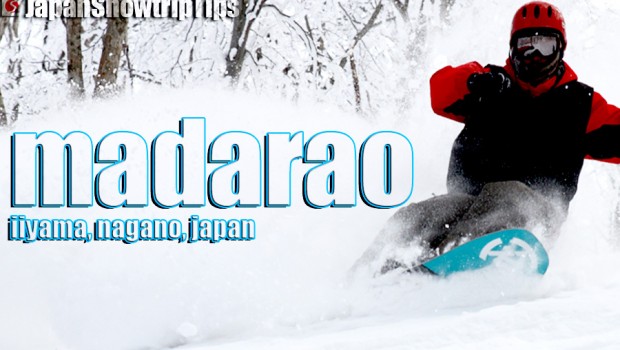 Published on April 21st, 2013 | by Japan Snowtrip Tips
0
Madarao Kogen Mountain Resort, Iiyama, Nagano, Japan – No pow police, just pow.
Madarao Kogen Ski Area Review
Summary: Madarao Kogen is one of many mid-sized Nagano ski areas, but an impressive amount of ungroomed powdery terrain, uncluttered lift-system and open off-piste riding policy make it feel more expansive than it is. Excellent widely spaced trees, fantastic snow totals, slopeside accommodations, beautiful scenery, fun terrain and less crowds than at nearby historic Nozawa Onsen make Madarao Kogen one of our favorite Japow playgrounds on main Island Honshu.
4
Iiyama powder playground
Madarao Kogen Ski Resort, located 30 minutes up the twisty mountain road from cultural hotspot Iiyama City in the valley below, has attributes to satisfy hardcore powder junkies, intermediate trail cruisers and novice snow sliders alike.
Of great importance for pow seekers, unlike many Japanese ski areas still maintaining archaic official closed-door-policies concerning off-trail access, Madarao Kogen openly welcomes you to enjoy the powdery bliss across a vast percentage of ungroomed rideable terrain.
Although not fully an undiscovered powder paradise as domestic Japanese and overseas visitors have had this North Nagano ski area on their radars for decades, crowds generally pale in comparison to neighboring Nozawa Onsen up the valley making Madarao more relaxed in our view.
Interconnected trail system between Madarao and neighboring Tangram Ski Circus (via combo lift pass) extends this excellent mid-sized Nagano ski-jo`s rideable area while also providing a change of pace. Multi-day ski holidays are a great option as the convenient slope-side Madarao Kogen Hotel offers comfortable accommodations, indoor & outdoor onsen, two restaurants, ski & snowboard rental shops, locked ski/board equipment storage and proximity to other great off-slope activities offered by the Madarao Tourism Office.
The party scene is very low-key at Madarao Kogen (i.e., non-existent), so if you need wild night-time entertainment you should look elsewhere. But if you want a peaceful sleep so you can shred abundant freshies in the morning, soak in the onsen, eat good food, then do it all over again the next day you`ve found the right place.
Ski season length at Madarao is slightly shorter than at higher elevation Japanese ski resorts on Honshu or colder northern Island, Hokkaido ski areas, but from December until end-March/early April, Madarao Kogen has all the attributes to keep you happily flowing through piles of world-class fluffy stuff with a smile.
Madarao Kogen On-piste Skiing & Snowboarding

The groomed trails at Madarao — which can seem almost hidden amidst the ungroomed majority of the mountain on a powder day — are generally wide, mellow and fun, catering wonderfully to beginner and intermediate skiers & snowboarders.
Beginner: Green-rated runs include basically the entire lower half of the mountain. These runs are wide and relatively long, providing a lot of options to help novices explore across much of the lower portion of the ski area. If you are a lower level skier/boarder or an intermediate snow slider not yet confident with speed & edge control, it might be a good idea to fore-go the upper part of the mountain as the descents can be a bit steep from the top and much more narrow.
Intermediate: The largest percentage of terrain at Madarao is rated for intermediates. However, this can be deceiving as the drop-in points from the top-lift (Chair No. 13) require entries into black diamond trails to reach the red or green trails below. Confident intermediates will have no trouble and will find the black diamond entries, although steep at points, to be great skill enhancers.
Advanced: Much of the advanced terrain at Madarao is left ungroomed facilitating excellent powder run conditions across a great majority of the rideable area. Mogul courses — of which were the sites for World Cup competitions in the past — are found to the right of Chair No. 13. The narrow winding pisted trails snaking back & forth through the ungroomed terrain below No. 13 (rated Red) can also make even advanced riders crack a smile if forced to stick to the trails on a non-pow day (not likely during mid-season at snowy Madarao).
Madarao Kogen Off-Piste Skiing & Snowboarding

More than half of Madarao Kogen`s patrolled terrain remains ungroomed (60%) providing off-piste skiers and snowboarders a lot of room for powder play. The majority of off-piste terrain has an intermediate pitch but there is a solid amount of black-diamond-rated steepness from top (1380m) to bottom (910m) delivering 440 meters of total vertical without the dreaded Japanese ski area flat-spot affecting your run-out until you`ve nearly reached the lifts for your return trip up the mountain.
There are great lift-accessed drop zones spanning the entire upper portion of the mountain, but the most enjoyable areas can be found along both far right & left flanks of the ridgeline accessible from the No. 13 lift. These are excellent powder-filled descents — partially wide open, partially widely spaced trees — that require some steep entries (36-38° at spots) but ultimately mellow into natural gullies with fun run-outs back to the lifts. If you decide to drop directly down the center of the ski area from Chair No. 13 into the likely pleasant powder conditions awaiting you, be alert for groomed trails cutting across the mountain which can be hard to spot when you`re in a free flowing powder frenzy.
Very little hiking (if any) is required at Madarao to get freshies , but extremely short walks followed by traverses along the upper ridge are advisable to access untouched portions of the  terrain on a crowded pow day (e.g. the treed zone between the top of Chair No. 13 and Madarao-Tangram boundary to riders left).
Madarao Kogen Crowds

We`ve witnessed Madarao Kogen crowds amidst major university holiday periods that attract hordes of young (generally novice) snow sliders as Madarao is definitely considered a "cool" spot to shred. But aside from the lower half of the ski hill harboring lower level snowboarders (and a few skiers), we didn`t feel claustrophobic nor did we wait to sit on a chair lift. Weekdays at Madarao during non-holiday periods will allow for a lot of elbow room to throw blower pow all over the place and normal weekends will still provide a much calmer experience than other Nagano resorts in Hakuba or nearby Nozawa Onsen. Similarly, although Nozawa maintains its reputation as a more "culturally traditional" Japan skiing & snowboarding destination because of its 1930`s skiing heritage and village streets lined with hot-springs, there is still a decidedly Japan-centric vibe at Madarao that is ironically disappearing at historic Nozawa due to influx of Australian tourists.
Madarao Kogen Ski Lifts

There are a total of 14 lifts, which to our liking don`t overly clutter the landscape helping maintain the ski area`s beauty. Chair lift speed was adequate but not necessarily fast, however the scenery is so wonderful that you`ll never hear complaints from us about lift speeds at Madarao. Likewise, the relative slow speeds actually prevent the terrain from becoming tracked-out too quickly. Having never experienced excessively high winds we can`t comment on your potential level of discomfort in harsh weather, but as the lifts do not have wind shields we imagine it might be a bit bothersome…until you forget about the lifts because of all the powder faceshots on the way down.
Madarao Kogen Snow

Considering the Iiyama region of Nagano prefecture is one of the snowiest spots in Japan, it`s safe to say Madarao Kogen receives its fair share of Japow. Unofficial reports from trusty resort staffers and local residents suggest annual snow totals at Madarao Kogen consistently top 8 meters. Take a look outside the bus window at the towering snow banks on the way up the mountain road to the resort and you`ll believe those estimates. Mid-season snow totals and quality are excellent (Jan.-Feb.) while March can start to witness some snowpack decline and quickly usher in Spring riding conditions. Winter season operations normally end during the last week of March/first week of April, so your best bet is to get your pow fix at Madarao during the traditional winter high season.
Madarao Kogen Mountain Stats & Ski Trail Map
+ Terrain
Beginner: 30%
Intermediate: 40%
Advanced: 30%
# of Trails: 28
Longest trail: 2.5km
+ Elevation & Snowfall
Base elevation: 910m
Summit elevation: 1380m
Vertical: 440m
Avg. Annual Snowfall: 10-12m
Winter operations: early December until end March/early April
+ Ski Pass & Operation Hours
 1 day adult: 4200Yen
1/2 day adult (4 hrs): 3600Yen
4PM+Night (Sat., Sun. & holidays only): 4500Yen
3 day: 11100Yen (adult), 3000Yen (child), 9500 (senior)
Madarao+Tangram Combo: add 1500Yen to normal 1-day Madarao ticket price
+ Access
Car: 10km from Toyota Iiyama IC, Joshinetsu Expressway; winter road access via Iiyama City only
Train: 11km from JR Iiyama Station, Iiyama City; direct train access to ski resort not available
Bus: Daily ski bus access from JR Iiyama Station (500Yen/pp 1-way)
Madarao Kogen Snowtrip Tips
Snowtrip Tip 1: 1-2-3 to the top then drop…
It`s a 3 stage journey from base to ski area top, so if you want first tracks in the awesome Madapow follow this road map to the summit. Ride down from the Madarao Kogen Hotel into the basin harboring the base area lifts. Take the No. 2 Quad, quickly slide over to Chair No. 3B, then hop on the classic single seater No. 13. You`ll be able to scope out some great pow lines from No. 13, but stay calm…no need to fall off the tiny "pizza box" seat before you reach the multiple drop-in points along the ridge at the top.
Snowtrip Tip 2: The pow-filled trees, gullies and waves you`ve been dreaming of…without other people.
The in-bounds off-piste is excellent at Madarao, but the truly epic goodies are found off the top of namesake Madarao Mountain necessitating short guided uphills (20min.) to access multiple memorable drop zones. With mandatory hikes back to the resort or van pick-ups required to drive you the sometimes lengthy distances back to the base, it`s best to play it safe and leave the out-of-bounds logistics up to the Madarao Kogen backcountry skiing & snowboarding guide pros at North Nagano Outdoor Sports.
Snowtrip Tip 3: Before pow faceshots you gotta`get to the mountain…
Madarao Kogen ski area sits above Iiyama City at the top of a potentially treacherous mountain road. We always recommend that you let the pros do the driving for you in Japan instead of risking hazardous motor vehicle operations on unfamiliar, often unsalted roadways. As there is a daily ski bus departing from Iiayma JR Station every hour, there`s no worries. The bus ride only costs 500Yen and takes around 30 minutes. If your initial arrival to Madarao from Tokyo (via Nagano) is later in the day or you decided to spend some time exploring the great cultural offerings in Iiyama city, be sure not to miss the last Madarao ski bus which normally departs back to the ski resort at 5:24PM. Notice we said 5:24, not 5:25 or 5:30. Japanese time tables for planes, trains, buses and ferries are generally very precise even in harsh weather. But don`t stress…Japanese bus drivers are also generally very friendly so if they see you running to the bus, chances are they won`t leave you stranded at the station.
Snowtrip Tip 4: Sometimes it`s OK if powder trails are flat at Madarao…
The terrain at Madarao Kogen Ski Resort isn`t flat at all. In fact, there are some very steep drop zones with generally enough continuous pitch for full-length top-to-bottom pow runs. But too many snow trippers seem to forget that faceshot induced adrenaline rushes aren`t the only way to enjoy the mountains in Japan. If you`re looking for an affordable, less intense but equally rewarding way to explore the Madarao National Forest, join a fantastic English-language guided snowshoe tour around Lake Nozomi with the Madarao Kogen Tourist Office.
Snowtrip Tip 5: Stay slope-side or you might miss fresh first tracks…
Normally we prefer to stay in accommodations that provide convenient access to both powder submersion and cultural immersion. That means staying in a town or city is often more desirable on a Japan snow trip instead of directly on the ski hill which can isolate you from cultural & sportive off-slope activities. But Madarao Kogen is one of those Japanese ski areas that pretty much necessitates that you stay on the mountain if you plan to snag morning fresh tracks after a powder dump. Sure, you can stay 25 minutes away in Iiyama City at a traditional ryokan (Japanese Inn), at a minshuku (B & B) in Togari Onsen or even a bit farther up the valley in Nozawa Onsen to still access Madarao Kogen via ski shuttle bus interlinking these three ski areas. But the ski shuttle won`t get you to the mountain anywhere remotely close to first tracks (more like lunch time) and taxis might refuse a ride up the mountain road if weather is bad. That`s why waking up in the comfy Madarao Kogen Hotel gets our recommendation for placing you within easy reach of first chair up the hill…which leads to first faceshots on the way down.
Snowtrip Tip 6: Shred Madapow then design your own memories in Iiyama City
The Iiyama valley is one of Japan`s deepest snow zones providing access to some of the best Nagano skiing & snowboarding. But the cultural offerings in Iiyama City are just as memorable as the snow. Participate in any or all of the fun artistic & cultural activities the Iiyama region is known for like traditional paper making, metal working with a master artisan, dinner in an igloo at an annual Iiyama festival or tour one of Nagano`s top sake breweries (with tasting of course).
Snowtrip Tip 7: Combo Circus pass…
Madarao Kogen has enough terrain to keep you busy (and smiling), but we also recommend sliding across the resort boundary into interconnected Tangram Ski Circus. The access point for Tangram is located directly at the top of Chair No. 15 far riders left of Madarao Kogen ski area and can also be accessed via longer run originating from Madarao`s upper ridge down along the resort border parallel to Tangram Chair No. 2.