Madarao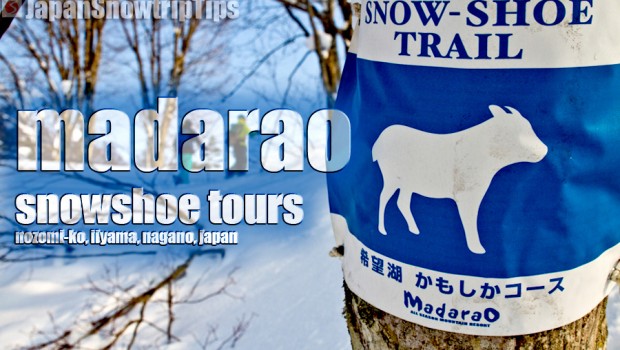 Published on June 9th, 2014 | by Japan Snowtrip Tips
0
Madarao Kogen, Nagano, Japan Snowshoe Tours at Lake Nozomi
Madarao Kogen Snowshoe Tours
Summary: If you`re looking for a rewarding alternative to adrenaline-filled downhill descents at Madarao Kogen ski resort, reserve a spot in one of the excellent English-speaking snowshoe tours in Nagano offered by the Madarao Tourism Office.
4.8
Madarao National Forest flatland fun
For most serious snowtrippers an adventure to Nagano, Japan, is centered on one thing: blower pow faceshots! But we recommend every skier & snowboarder exploring the Iiyama region step-out of your bindings and step into some snowshoes for a great English-speaking guided tour not far from the Madarao Kogen ski slopes.
Knowledgeable Iiyama local and Madarao Tourism Office snowshoe guide, Ryoma Nishikawa, will lead you through the beautiful, protected Madarao National Forest while offering fun, educational info about local plant & animal life along the way.
There are approximately 6km of sign-posted trails around Nozomi-ko (Lake Hope), giving different options for snowshoers dependent upon athleticism, goals and time constraints. During January and February, you can even walk directly across the lake on certain tours. Sound crazy? Actually it`s perfectly safe. Although Nozomi-ko doesn`t fully freeze, there is so much snow accumulated during these months that it`s possible to wander across it without fear of falling in.
A Madarao snowshoe tour is truly something everyone can safely discover and one of the most rewarding off-slope excursions you`ll find while visiting Madarao Kogen. Likewise, proximity to the ski hill and flexible reservation times mean you`ll never have to sacrifice any precious downhill powder play to enjoy this peaceful, slower paced activity.
Madarao Kogen Snowshoe Tours Access

The Madarao Kogen Tourism Office, Yamanoi-e (Mountain House), is your starting point for snowshoe tours. The tourism office is an easy 5 minute walk from the Madarao Kogen Hotel and is marked with signs along the road the entire way. It`s possible to schedule a short shuttle ride from the hotel if you`re lazy or running short on time, but if you choose to walk the short distance the hotel front-desk staff will kindly show you a map to send you in the right direction.
Madarao Kogen Snowshoe Tours Groups & Prices

Regular group snowshoe tours: Madarao Yamanoi-e offers 2.5 hour group snowshoe tours all winter long on Sundays. Meeting point is at the Mountain House front-desk. Cost is 1500Yen/pp, minimum 1 person, maximum 15 people. Reservations are required. If more than 15 people, an additional guide will accompany the group.
Private daily snowshoe tours: For 8000Yen, Mountain House offers daily tours for private groups up to 15 people. Tours are 1.5-3.5 hours. Reservations are required. Shuttle buses to/from the Mountain House office are normally provided.
*Snowshoe + Poles rental: 1000Yen (additional to tour reservation price)
Madarao Kogen Snowshoe Snowtrip Tips
Snowtrip Tip 1: Dress for the weather
Sounds pretty obvious, right? But winter weather in one of the snowiest places in Japan can be much harsher than you`re accustomed to. Aside from mid-season winter temperatures that regularly drop to -5 C, strong winds are common at Madarao, requiring waterproof outerwear, face coverage, warm gloves, warm socks and eye protection (sun glasses or goggles) on snowshoe tours. We recommend bringing a lightweight (ski) backpack so you can add or remove layers/gear as needed. Remember to also bring a bottle of water.
Snowtrip Tip 2: No need for your airline bags to be overweight because of snowshoes.
Modern snowshoes are generally light-weight pieces of equipment. But you`ll already have tons of gear with skis/board, heavy winter clothing and potential weighty souvenirs (can anyone say "sake bottles") that`ll put you perilously at or over the airline baggage allowance limit. If you decide to bring your own snowshoes and poles (not a bad idea for out-of-bounds snowboarders), you`re all set. Otherwise no worries. You can rent quality snowshoes and poles at the Madarao Yamanoi-e (Madarao Mountain House) for only 1000Yen.
Snowtrip Tip 3: Morning pow facehsots on your skis/board, then afternoon freshies on your snowshoes.
The snowshoe tours offered by the Madarao Kogen Tourism Office aren`t necessarily designed with Olympic caliber stamina in mind, which allows nearly everyone to enjoy the activity. If you want a challenge, Ryoma (your local English speaking guide) can take you on a trek that`ll get your blood flowing, heartbeat racing and thighs burning. But normally, the 1.5 to 3.5 hour tours aim to lead you through the tranquil Madarao National Forest leisurely. This means that you can realistically shred Madarao pow (Madapow as the locals call it) all morning until your legs feel like jelly, hop into the onsen for a few revitalizing minutes, then still enjoy a mellow afternoon snowshoe tour before the sun goes down. Much of the snowshoe trekking around Lake Nozomi is relatively flat, but there are some uphill & downhill spots that`ll (briefly) work your legs so make sure you have enough energy to be safe out there in the forest.
Snowtrip Tip 4: If a snowshoe walk in the woods isn`t for you, maybe take a walk down Iiyama cultural lane.
A short 25 minute drive/bus ride down the road from Madarao Kogen to Iiyama City will give you the chance to explore some timeless local cultural offerings with ancient regional roots. Even if you decided to participate in a snowshoe tour or ski-snowboard at Madarao during the morning, you could still make it into the valley to design your own metal crafted momentos with a local master artisan, make your own traditional paper products or tour & taste at one of Nagano`s top sake breweries with enough time to catch the last bus back to your Madarao ski hotel at 17:45 (5:45PM).
Snowtrip Tip 5: Not enough adrenaline walking on snowshoes? No problem…
Clearly, if snowshoe tours are offered by the "Mountain House," there must be mountains around that you can ski or snowboard.  Madarao Kogen, interconnected Tangram Ski Circus and near-by Togari Onsen each offer great on-piste and off-piste pow filled terrain in the the Iiyama region of Nagano prefecture. If you`re looking to step out-of-bounds into unforgettable Madarao trees, get in touch with Madarao Kogen backountry skiing & snowboarding guides, North Nagano Outdoor Sports.