Tokyo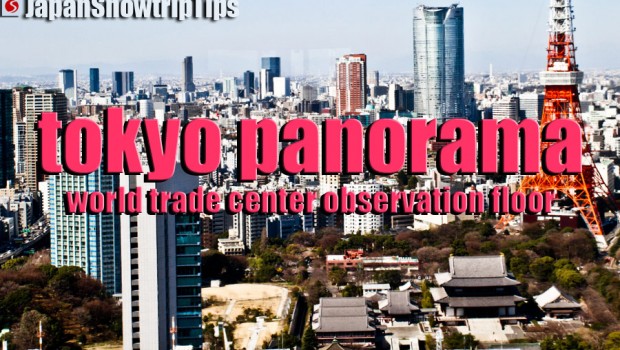 Published on April 21st, 2013 | by Japan Snowtrip Tips
0
Tokyo World Trade Center: the best panoramic views of Tokyo nobody sees
Tokyo WTC Observation Deck
Summary: If you`re passing through the mega-city during your snowtrip to Japan, set aside a few hours of your day (and only a few hundred yen) to soak in epic panoramic 360° views from the Tokyo World Trade Center Observation Floor.
4.9
Cheap Urban Entertainment
There are a handful of elevated panoramic outlook points offering wonderful views scattered throughout the sprawling steel & concrete mass of Tokyo, but the unhurried experience from atop the Tokyo World Trade Center — one of Tokyo`s oldest panoramic skyscraper outlooks — remains one of the premier, underrated city-scape vantage points.
Of course, in a city of 11 million with millions more tourists roaming around yearly, there`s a good chance you`ll have to share the incredible views with others from the 163 meter panorama point. But if you plan your visit properly (outside of busy school holiday periods), you can likely enjoy excellent views from the ¨Seaside Top" without bumping into too many other mesmerized out-of-towners.
Our impressive 25-second elevator ride to the 40th floor interior observation deck was shared with only an accompanying Tokyo World Trade Center employee who kindly ushered us to the ticket counter where we waited for zero seconds in line to pay the 620yen/pp entry fee. Afterwards we spent nearly an hour sipping our coffee at various comfy seats around the observation room, photographed the surroundings (which is officially forbidden but not strongly enforced) and only "rubbed shoulders" with a total of 3 other visitors in a space designed to accommodate hundreds.
Crowdless, peaceful and only a few hundred yen for unique 360° skyline views of mega-city Tokyo…for us that`s cheap, unforgettable urban entertainment at its finest!
The Tokyo World Trade Center Observation Deck is easily reachable by public transport. We recommend taking the Tokyo Metro A09 to the Daimon stop (Asakusa line) or train to Hamamatsucho Station (JR/Monorail).
The Tokyo WTC Seaside Top Observation Deck is open every day of the year from 10AM-8:30PM (last entry at 8PM).
Cost for entry is 620yen/pp. Printable online coupons are also available at a reduced rate of 500yen/pp here.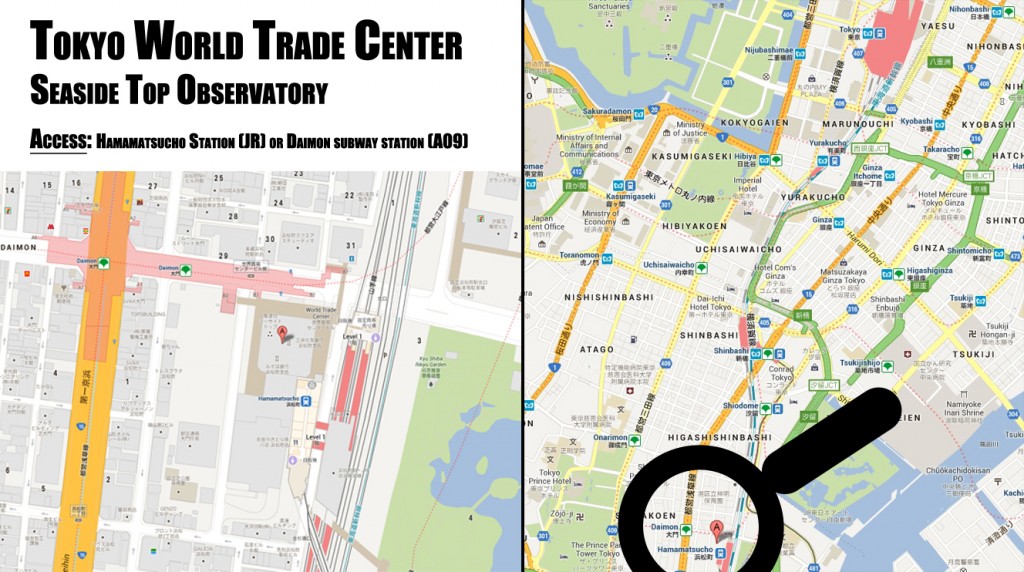 Tokyo WTC Panorama Snowtrip Tips
Snowtrip Tip 1: Tasty brew with a tasty view

Enjoy a coffee on the 40th floor while marveling at the megatropolis. There`s a great coffee shop located on the B1 level named St. Marc that also offers nice pastries and sandwiches.
Snowtrip Tip 2: Paparazzi unite

Photograph with discretion. The official Tokyo WTC Observation Deck policy is that photography is forbidden. In our experience, if you arrive at a quiet time and do not blatantly rattle-off frames with a WTC employee standing next to you, chances are you`ll be left alone to photograph as you like. Please do not interpret our snowtrip tip as a 100% insurance policy. If your camera gear is confiscated, you`re forced to leave the observation deck, incur monetary fines or even worse, imprisoned, you`re responsible not us.
Snowtrip Tip 3: Visibility helps on a panoramic observation floor (no shit huh)

Pay attention to the weather forecast when planning your trip to the Tokyo WTC Observation Deck. It seems obvious, but it`s easy to lose track of time and days during a whirlwind tour of Tokyo. If you`re main focus is to ski-snowboard in Japan, you`ll likely have limited time to fit in activities in the capital and winter weather (even in Tokyo) can put a dreary damper on your plans if you don`t plan ahead. The views from the WTC Observation Deck are too fantastic to pass up and too worthwhile to miss because you forgot to check the forecast.