Osaka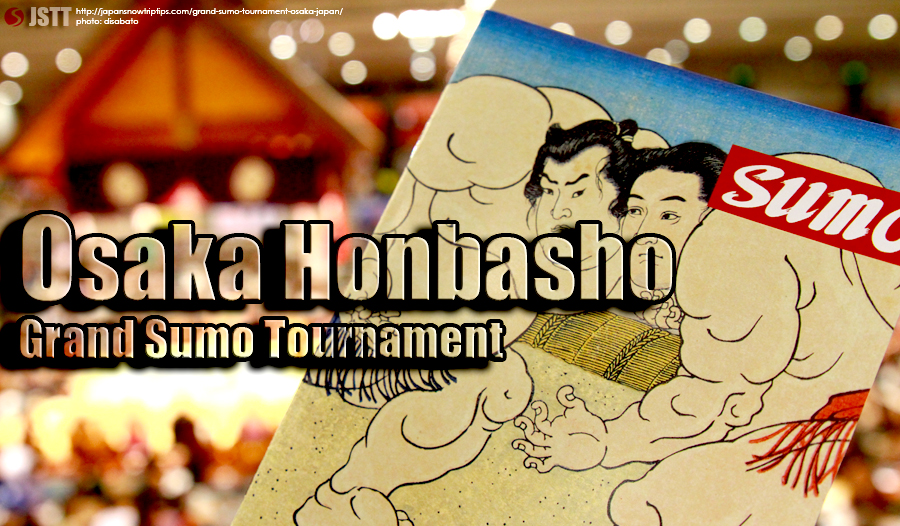 Published on September 17th, 2013 | by Japan Snowtrip Tips
0
Osaka Grand Sumo Tournament
Osaka Grand Sumo Tournament
Summary: Experiencing a sumo match in a city that never sees snow might not seem like a realistic Japan snowtrip sidetrip, but a high-speed train ride or low cost domestic flight can easily take you from powder-filled slopes to front-and-center at one of the most important annual sports events in Japan, the Osaka Grand Sumo Tournament.
5
Slopeside to Sumo Ringside
Every year in March, the highly anticipated Grand Sumo Tournament, or Honbasho, takes place in the Kansai region`s most dynamic city, Osaka, Japan.
Six sumo tournaments lasting for 15 days each are held at different venues around the country annually.
Although the majority of Grand Sumo events take place outside of winter months, it`s still possible to fit a sumo match into your Japan snow trip if you`re in Tokyo during January or Osaka in early/mid-March.
If the timing is right, absorbing the cultural traditions of Japan`s millennia-old sportive past-time is something we recommend every snow slider include in their journey through Japan.
Osaka Grand Sumo Bodymaker Colosseum

The Grand Sumo Tournament in Osaka, under national governance of the Japan Sumo Association, is held annually during March at the Osaka Prefectural Gymnasium, aka Bodymaker Colosseum, in the energetic Namba district of Osaka. The sumo venue is conveniently located near important rail & metro hubs — Namba & JR Namba stations — in the city`s famous Minami (South) entertainment & shopping area. The sumo arena is approximately 5km south of Osaka Station and only a few kilometers southwest of Osaka Castle.
*Note: Namba is also referred to as Nanba, so don`t be confused if you see it written either way.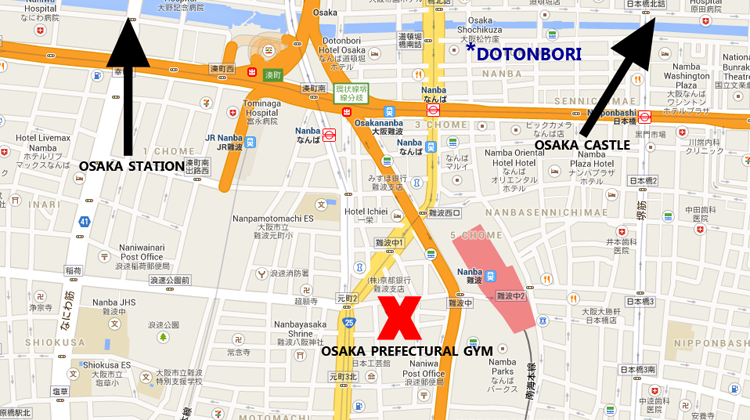 Osaka Grand Sumo Tickets Q & A

+ Osaka Prefectural Gymnasium Seating Info
The Osaka Prefectural Gymnasium has a seating capacity of 8,000. Numbered seating is located on all four sides of the sumo ring with sections indicated by cardinal direction (North, South, East, West) and letters (A, B, C, D, S & SS).
Visitors choose between two seating styles:
lower-level private or shared boxes (traditional Japanese matting)
upper-level seats (Western-style arena)
Prices range between 3000Yen for (limited) General Admission day-of-event ticket sales to advanced-purchase ring-side Box Seats costing upwards of 12,000Yen per ticket.
Grand Sumo Tournament tickets go on sale around 45 days prior to the event and can *ONLY BE PURCHASED FROM WITHIN JAPAN BY A  JAPANESE ADDRESS HOLDER.
+ How to buy Sumo tickets from abroad?
Short answer…you can`t. But there`s a solution.
Rules for sumo tickets prohibit sales outside of Japan to non-Japanese address holders. Your best option is to contact friends/family in Japan willing to purchase seats for you online or at any number of convenience stores across the country.
Otherwise, we suggest contacting an online English-language sumo ticket service. We`re fortunate enough to have a kind friend willing to pre-purchase tickets for us directly from Japan, but our experiences communicating with the folks at buysumotickets.com were pleasant and we`d give their service a try. Fees are minimal and for most English-speaking visitors, they seem to be the best way to purchase sumo tickets from abroad.
+ Can I buy sumo tickets after I get Japan?
It`s possible to wait until arrival in Japan to purchase sumo tickets at convenience stores or online (sent to your hotel address), but you`ll obviously run the risk of missing out. If your travel itinerary is flexible over a two week period in March, you`ll likely be able to find seats.
Normally only the first/last tournament days and weekends sell out early, while mid-week matches have tickets available until the day of the event.
Your last option would be to line-up in front of the ticket window pre-8AM on tournament day to cash-in on any remaining low-priced General Admission seats usually comprised of farthest upper-level seating (3000Y).
+ Which side of the Osaka Prefectural Gymnasium should I sit on for a sumo match (N,S,E,W)?
Sumo competitiors square-off towards one another facing East-West, while the referee begins matches facing the North side of the gymnasium.
This means if you`re sitting on the South side, you`ll be viewing the referee`s back or if sitting on East/West sides, staring into one of the sumo`s giant wedgies.
Although lower-level seats on the North side of the arena provide the best frontal views of the action, wrestlers move around the ring in such a way that starting position has little to do with finishing pose.
With only 8,000 seats in Bodymaker Colosseum, most vantage points will allow you to enjoy the matches. Some seats though, definitely offer more bang for your Yen.
+ Lower-level boxes vs. Upper level seats Comfort
It`s great to be enthusiastic and embrace Japanese culture, but some things just don`t mix well with Westerners. Case in point, floor seating at sumo matches.
If you`re young, nimble or Asian and don`t mind sitting cross-legged for multiple hours, consider purchasing a box ticket for 2 or 4 people. You`ll be closer to the action and can soak in the sumo experience like a local.
But if you`re older, less nimble and prefer a bit of comfort, purchase an upper-level seat.
Generally, people taller than 5`10″ (180cm) or anyone with health issues should avoid the torture and try to sit as comfortably as possible in the already smallish, Western-style seats in the upper levels.
Lower-level seats costing the same (or more) will require you to remain stationary for much of the event until intermissions. When you`d like to (or need to) stretch your legs or grab a drink, you`ll have to carefully get up, step over people, put on your shoes, then walk towards the security guys who don`t really like when you get up to move around.
There is also a lower field of view on the floor-level than in the upper, potentially making it hard for shorter people to see over the head of the person in front.
+ What are the best Western-style seats in Osaka Prefectural Gymnasium?
We`d recommend sitting in sections SS on the East or West side. These are definitely not the cheapest tickets, but they`re Western-style seats closest to the ring providing great views and easy access to concessions (aka, beer) & souvenirs. Cost per ticket is highest in the seat category at around 10,000Y.
+ What are the cheapest Western seats & cheapest Japanese boxes at Bodymaker Colosseum?
If you want the least expensive lower-level Japanese-style mat, buy a Pair Box. This reserves two spots (2) in a place normally made for 4 giving extra room to sit more comfortably.
However, this row is the last of the lower level and does not give a better view than Western seats directly behind. Pair Boxes cost around the same as the top-rated Western seats in section SS with a less elevated view.
If you`re on a tight budget but want a Western-style seat, go for Section B on the North side of Osaka Prefectural Gymnasium. You`ll be farther away than the pricey East/West SS sections, but you`ll spend nearly 3 times less and have a frontal view of the action.


Osaka Prefectural Gymnasium Bodymaker Colosseum Seating Map
Osaka Grand Sumo Tournament Snowtrip Tips
Snowtrip Tip 1, Late-season pow + Osaka honbasho
Maybe you`ve never considered sumo as part of your Japanese skiing or snowboarding trip, but you can easily get pow-filled faceshots one day and ring-side action the next.
The Grand Sumo Tournament in Tokyo held during January attracts bigger crowds, but high-season holidays mean more tourists on the slopes and in cities. Osaka`s March honbasho offers a welcome alternative for clever (and lucky)  skiers & snowboarders exploring Japan during low-season in winter.
Snow will still be everywhere during March on northern Island, Hokkaido. An early evening 90-minute flight from Sapporo to Osaka with one of the low cost airlines for skiers & snowboarders in Japan brings you from blower pow in the morning at Kiroro to a fun following day at the Osaka Prefectural Gymnasium.
Snowtrip Tip 2, In the sumo neighborhood…
Osaka is Japan`s third largest city (behind Tokyo & Yokohama) and the country`s second most important socio-economic urban center. It`s also considered by many Japanese to be the prime culinary city in Japan as well. What`s that mean for you as a tourist? It means there`s a lot to do in Osaka, not least of which is see an amazing sportive and cultural display inside Bodymaker Colosseum.
The energetic Dotonbori neighborhood — known for its giant crab above Kani Doraku shop — is a short walk from the sumo venue making it a great option for pre/post-sumo eating, drinking, shopping and people watching.
Even closer to the gymnasium is Namba Gardens. This urban complex of shops, eateries, apartments and urban green space connected to Namba Station via underground walkway is a great place to wander.
We recommend pre-sumo discovery in Dotonbori — including delicious crab & takeyaki sampling — followed by post-sumo exploration of the shops in Namba Gardens before hopping the train or metro home from Namba Station.
You`ll likely pass through Japan`s busiest rail hub, Umeda Station, on your way home if staying outside of Osaka (e.g., Nara or Kyoto), so be sure to explore Hanshin Department store.
Hanshin is one of Japan`s most widely known brands and the 5 retail floors inside Umeda Station (aka, Hanshin Umeda Station) are a feast for consumerist eyes. Among the things you`ll be delighted & distracted-by include a food court with excellent fresh foods, kimono fabric boutique for the ladies and our personal favorite, the official merchandise store of beloved Kansai region Japanese baseball team, the Hanshin Tigers.