Minamiuonuma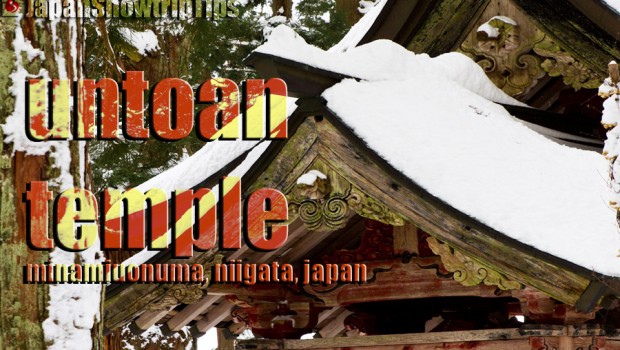 Published on July 10th, 2013 | by Japan Snowtrip Tips
0
Untoan Temple: Samurai history in Muikamachi, Minamiuonuma, Niigata, Japan
Untoan Temple
Summary: Located just outside of Muikamachi, not far from the snowy slopes of Hakkaisan Ski Area, the Untoan Temple complex dates back to the 15th century and served as a spiritual & educational facility for training young samurai.
4.5
Minamiuonuma cultural landmark
If your snow trip to Japan takes you into Yuzawa Snowcountry or the Minamaiuonuma snow region, a visit to Untoan Temple is a nice, 1-hour cultural excursion worth making.
The Zen Buddhist grounds are well-kept amidst giant cedars, befitting of its national historic landmark status.
Similar throughout Japan, significant cultural sites for Buddhist pilgrims like Untoan see the majority of visitors during summer months. This means your winter visit will likely be calm and without bus tours cluttering the scenery.
With more than 12 meters of annual snowfall accumulating at near-by Minamiuonuma ski areas, the stone walkway through the red gate toward the entrance said to bring financial success to those who trod the path might be buried. But don`t be sad about missing-out on glitter street. This Japan snow trip side-trip rewards you with powder treasures, not gold.
Public transport
Departing from JR Echigo-Yuzawa Station take the Joetsu or Hoku-Hoku lines to JR Muikamachi Station (20-25 minutes). From Muikamachi Station ride the Sawaguchi Line bus to the Unto-Iriguchi stop. It`s about 15 min. walk from the bus stop (2km).
Entry Cost: 300yen/pp
*private transport recommended mid-week during winter; prevailing winter road conditions into April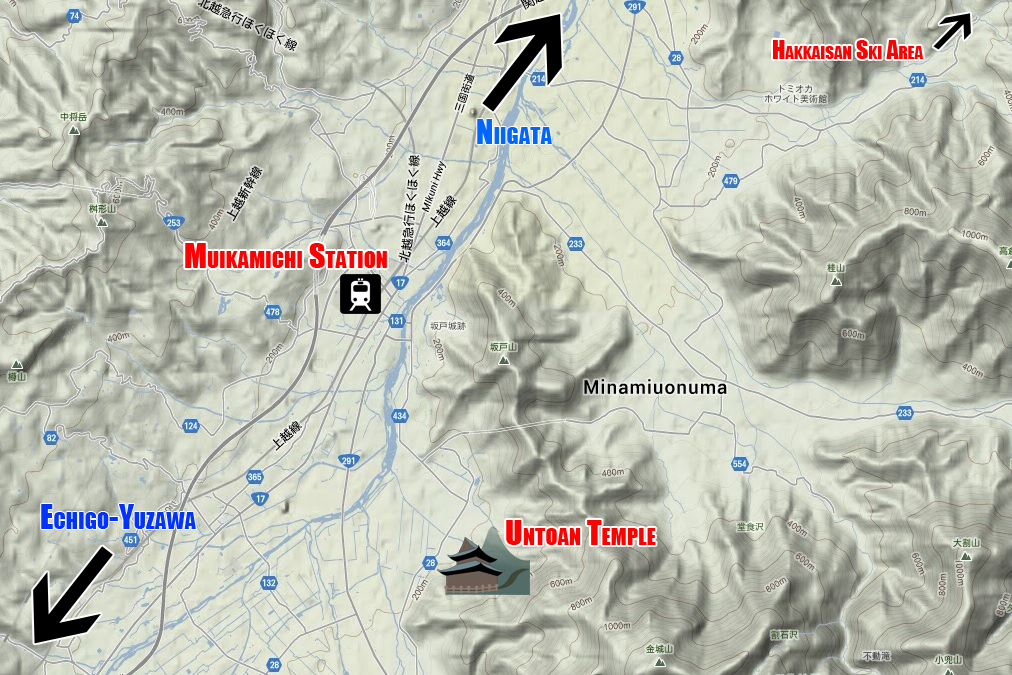 Untoan Temple Snowtrip Tips
Snowtrip Tip 1: Put on the pink slippers
As is customary throughout Japan, you`re required to remove your shoes at the entrance and wear slippers provided for your tour of the interior. Put on a pair of pink slippers then pay at the small window up the carpeted wooden walkway.
Snowtrip Tip 2: Drink to your health…or not.
Visiting Buddhist pilgrims are treated to the "spring of life" flowing into the Untoan Temple from Mount Kinjo. All visitors — Buddhist or non-Buddhist — are welcome to a drink with the ladel. It`s not required or customary for non-Buddhists, so we generally pass. You choose, it`s your health.
Snowtrip tip 3: It`s winter outside and inside.
Although you`ll likely spend the majority of your time touring the interior, it can still be drafty & chilly so wear proper winter gear including hat, coat and possibly a scarf & light gloves.
Snowtrip Tip 4: Look up to the heavens once in a while.
The temple interior isn`t overwhelmingly large, which is a nice feature allowing you to leisurely appreciate the site. You`ll pass through historically accurate rooms depicting samurai spiritual training facilities from centuries ago, as well as relics from past regional elite. Also be sure to gaze upward to take note of the carved details on wooden beams throughout the temple.
Snowtrip Tip 5: JaPow+Culture+Transport
If your holiday in Japan is centered on visiting temples, Untoan is a great addition to your itinerary. But if your trip is about mixing pow stashes and cultural excursions, you`re definitely in the right place. Two of Niigata`s finest ski areas are within reach of Untoan`s municipality,  Muikamachi. Hakkaisan is a direct 25-minute bus ride from Muikamachi Station and Kagura is a 25 min. train+20min. bus commute across the border from Minamiuonuma into Yuzawa via Echigo-Yuzawa Station.