Hakkaisan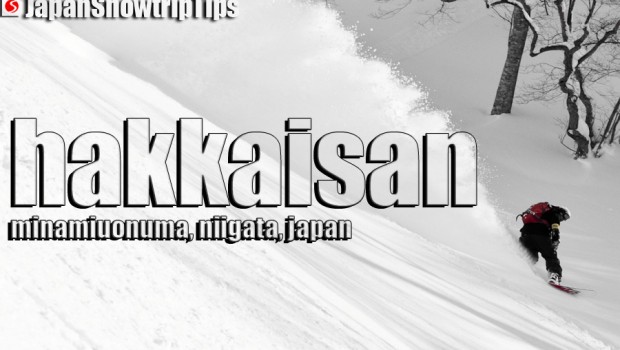 Published on April 22nd, 2013 | by Japan Snowtrip Tips
0
Hakkaisan Ski Area, Minamiuonuma, Niigata, Japan – First the snow then the sake
Hakkaisan Ski Area Review
Summary: It`s hard not to like a ski area that has minimal crowds on fresh 70cm bluebird powder days, smiles from everyone on the hill and snow run-off from the mountain summit that becomes some of Japan`s top rated sake & beer year after year. Epic pow + epic terrain + epic apres ski booze = epic mountain.
4
Hidden Niigata Faceshots
Reachable from Tokyo in less than 2.5 hours via Echigo-Yuzawa station, Hakkaisan boasts some of Japan`s most consistently deep annual snow totals.
Its geographic location only 1-hour inland from the Japan Sea by car or train, as well as elevation & aspect make it a mountain blessed by the snow gods. In essence, this quiet Niigata ski hill is combination storm catcher and sheltered weather zone all at once.
Mount Hakkai is legendary in Japanese culture — whether for the amazing riding, epic snowfalls, ancient samurai history, beautiful scenery or award-winning sake — but its native notoriety doesn`t translate to overcrowding on the slopes.
Albeit small in size with an equally small lift infrastructure, there are terrain features on & off-piste that nearly every skier or snowboarder will appreciate. Likewise, the picturesque uncluttered alpine setting is also  one of the best on all of main Island Japan.
However, for all its incredible meteorological magic and relative unknown snowsports appeal outside of Japan, Hakkaisan`s sunny Southerly aspect and steep pitch make this hidden Honshu gem very prone to avalanche danger. Similarly, season length isn`t as long as higher elevation Japanese ski areas in near-by Yuzawa or at powder magnates in Western Hokkaido.
But if you`re lucky enough to be in this quiet corner of Minamiuonuma when weather conditions are ideal in January or February, a powder day at Hakkaisan is one you`ll never forget.
Hakkaisan On-piste Skiing & Snowboarding

Limited number of trails aside, Hakkaisan has one of the longest groomed runs in Japan measuring 5.5 km.
Beginner: Green pistes accessed by two pair lifts below the ropeway — one to far skier-right that laps the terrain park and another rising a few hundred meters from the base — provide a comfortable environment for learners & lower-level skiers-snowboarders and are highly recommended for families with children. There is also a long, snaking green trail for beginners starting from the ropeway summit (exit the cable car to your right), but the lower elevation pistes offer a far less imposing, sheltered environment.
Intermediate: The red pistes dropping off the top of the ropeway range between 24-36 degrees and cater to upper-intermediate/advanced  skiers & snowboarders. These are initially challenging, relatively long runs that barely fall below 20 degrees angulation until you`ve descended nearly 600 meters (18oo ft.). Unlike many other Japanese ski areas, Hakkaisan`s terrain does not completely flatten out until almost reaching the base where the groomed beginner zones mellow to 12-14 degrees for the remaining couple hundred vertical meters.
Advanced: The two black runs beneath the main cable car — Expert & Champion — are actually normally labeled Yellow (designated natural ungroomed trails) after a snow storm. However, following the subsequent powder frenzy, a mogul-fest ensues. During busy periods, the groomers might come out to smooth over the naturally formed mounds at some point after lunch, but until then, it`s either early morning powder or late afternoon bumps. Even so, at 38 degrees these zones demand skillful skiing & snowboarding regardless of whether groomed, moguled or powder-filled.
Hakkaisan Off-piste Skiing & Snowboarding

The real appeal of Hakkaisan (one of nine total ski areas in Japan operated by Prince Hotels & Resorts) is away from the manicured trails.
The main black runs dropping from either side of the ropeway (as mentioned above, Expert & Champion) are left ungroomed until the steep, 35+ degree faces are moguled to the point of insanity. But before the car-sized bumps appear, these easy-access zones offer excellent in-bounds powder opportunities.
All in all, the off-piste potential of Hakkaisan is immense. There are very steep, consequential sidecountry & backcountry options including narrow chutes, cliffs, gullies, spines, well-spaced trees and over-head blower pow galore. The best easy access sidecountry zone is located off to far riders right of the ski area via very short hike beyond a boundary gate that is officially off limits.  And therein is the problem at Hakkaisan.
Although the off-piste skiing & snowboarding at Hakkaisan is truly impressive, the current off-piste policy is truly unimpressive. There aren`t too many powder police patrolling the out-of-bounds zones to fully ruin your day, but as of 2014 (and likely into the near future) powder poachers risk having their ski passes pulled and potentially face heftier problems with authorities.
Discounting its less than ideal off-piste riding doctrine, Hakkaisan is still a special place with far more positive attributes than negative. If you`re there on a day when the snow gods smiled (and have a guide or a trusty local to show you the way), you`ll no doubt be reminded of why sliding off the groomed trail is so rewarding.
Hakkaisan Crowds

A busy weekday at Hakkaisan constitutes 100 people, with probably half of that number on the lower portion of the mountain reserved for beginners. Weekends will always be more crowded, but with larger, higher elevation ski resorts more easily accessed by train just a few stops up the tracks in Yuzawa, Hakkaisan has a greater chance of being overlooked by weekend warriors wanting more extensive lift infrastructure & more expansive pisted terrain.
Hakkaisan Ski lifts

There are a total four (4) ski lifts at Hakkaisan —  One (1) Ropeway rising to 1471 meters capable of transporting 81 skiers/boarders and three (3) pair lifts below the ropeway. Clearly there aren`t a lot of lifts at Hakkaisan, which is great for some and a curse for others. For us, the minimal lift layout preserves the beauty of the mountain and is ironically more efficient than many other Japanese ski areas with more developed, "better" lift infrastructure.
Hakkaisan Snow

The snow quality at Hakkaisan isn`t Hokkaido-light, but don`t be fooled into thinking this high elevation ski resort by regional Minamiuonuma, Niigata, standards (1471 meters) is lacking in the powder department. The steep upper portion of the mountain maintains great snow quality even near the end of the season, while the lower portion of the mountain can suffer from warmer temperatures similar to other low elevation regional ski areas. But more than ten meters (10m) average annual snowfall collecting in a catcher`s mitt shaped mass of rock with awe-inspiring blower pow descent options really speaks for itself.
Hakkaisan Mountain Stats & Ski Trail Map
+ Terrain
Beginner: 30%
Intermediate: 40%
Advanced: 30%
# of Runs: 16
Longest run: 5.5km
+ Elevation & Snowfall
Base elevation
: 355m
Summit elevation: 1147m
Vertical: 792m
Yearly snowfall: 10m
Season: mid-December to end-March
+ Ski passes & Operation Hours
1-day: 3500yen
5 hour: 3000
3 hour: 2500yen
1 RT ropeway: 1800yen
Single ride: 400yen
Weekdays: 8:15am-4:30pm
Weekends/holidays: 8:00am-4:30pm
+ Access
Nearest town
: Muikamachi
Nearest train station: Muikamachi
Car: Muikamachi IC of Kan-etsu Expy.
Public ski bus: Yes, Muikamachi station, 30 min.
*Car recommended: Yes
Hakkaisan Snowtrip Tips
Snowtrip Tip 1, Catch the Hakkaisan ski bus
There is a daily ski bus service at Hakkaisan to/from Muikamachi train station. The ride takes approx. 30 minutes and costs 2000yen/pp round-trip. Although the bus runs daily during the winter season, service times might be limited. Be sure to catch the 8:30AM bus if you want to spend a full-day or snag early morning freshies. Otherwise you`ll likely need to wait until almost lunch time for the next one according to past schedules (around 11:30AM departures). Likewise, don`t miss the last bus back to Muikamachi station from Hakkaisan, which is normally 17:10 (5:10PM).
Snowtrip Tip 2, Beware the Hakkaisan Off-piste policy
Hakkaisan is an epic off-piste playground…if you have the knowledge required to access the terrain away from the patrolled trails or get there early enough to pillage the runs directly beneath the cable car. But the southerly aspect and deep snowpack makes it a place commonly under threat of avalanches requiring backcountry safety equipment & knowledge. Likewise, off trail riders are also under threat of pass revocation if caught ducking the ropes. We strongly advise that you consider finding a professional guide service or knowledgeable local to show you around. We have experience with a local guide company that we unfortunately cannot fully endorse as they have a lot of room for improvement, but if you can`t find anyone else, Triforce is definitely better than not having anyone to safely show you the way. Safety first.
Snowtrip Tip 3, Drink the local sake & beer
A lot of places claim they make the best booze, but Hakkaisan lives up to its reputation. The water flowing down from Mount Hakkai during spring-melt ultimately contributes to the production of one of the premier sake varieties in all of Japan. Likewise, local Izumi Brewery produces Hakkaisan beer, which can stand up against any beer in Japan. You can taste both at the mountain restaurants and purchase them in the gift shop near the ticket desk at the main entrance/exit.
If you want to hold your own personal "best sake in Japan" taste test to see if Hakkaisan sake is truly deserving of its heralded reputation, the Sake Museum Ponshu-kan inside Echigo-Yuzawa train station (only 20 minutes away on the JR train line from Muikamachi), offers visitors a highly recommended experience allowing you to sample numerous varieties of sake from all over Japan for just a few hundred yen.