Appi Kogen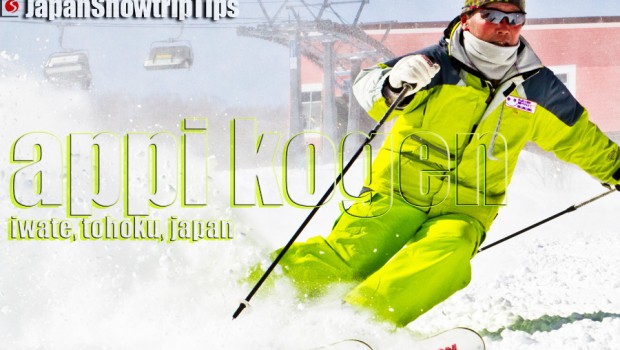 Published on April 19th, 2013 | by Japan Snowtrip Tips
0
Appi Kogen, Iwate, Japan – On-piste pow pleasure in Tohoku
Appi Kogen Ski Area Review
Summary: Appi Kogen is a multi-day snowsports destination for the whole family. Located to the north of Tohoku`s most recognizable volcanic giant, Mt. Iwate, in the beautiful Hachimantai National Forest, Appi Kogen has a lot of positive attributes that`ll keep piste-focused skiers and snowboarders of all levels occupied.
The long snowy pistes of Tohoku`s largest ski area, Appi Kogen, aren`t a secret anymore but there`s still plenty of elbow room on the trails to make it feel that way.
Appi has always been a favorite of Northern Honshu Japanese and recently begun attracting more snowsports lovers from overseas. But the pisted terrain is expansive, dispersing snow riders in a way that alleviates bottlenecks or unreasonable lift queues. You might wait for a few moments on a weekend at one of the 6-seat base area gondolas back to the top, but 900 vertical meter powdery descents are nice rewards for your patience.
For those wanting a family-oriented ski resort with great snow totals, excellent pistes for all levels, good lift infrastructure, convenient slope-side lodging and a less congested riding experience than you`ll find in other Japanese snow zones, Appi Kogen is the place for you. We`re off-piste-focused riders so Appi Kogen has some limitations for us due to official off-trail resort riding policies, but there`s still a lot about Appi that makes us happi.
Appi Kogen On-piste Skiing & Snowboarding

Pistes at Appi Kogen are suitable for all levels and can keep every snow slider busy for multiple days. The trail system is extensive for Japan with 21 courses. Courses are wide, extremely long and offer a lot of continuous vertical until flattening out dramatically at the bottom. Quite a few runs deliver upwards of 500 meters of 30°+ gradient. The groomed terrain at Appi Kogen is evenly distributed in percentages of difficulty allowing for full-day mixed-level enjoyment for the whole family.
Beginner: Novice and never-ever skiers are well-catered to at Appi. The lower half of the mountain across nearly the entire resort is made for beginners. There are two trails far rider right & far rider left, dropping in opposite directions from the top of the main peak, Mount Maemori, providing incredibly long scenic beginner runs. The Yamabato Run is the ski resort`s longest at 5500 meters (5.5km).
Intermediate: Although the majority of terrain at Appi Kogen is rated intermediate (40%), mid-level skiers will actually need to challenge themselves a bit to access the mid-grade trails. Intermediates must often negotiate advanced black terrain down the center of the mountain to meet up with intermediate trails or descend the outer flanks of the ski hill to wrap back toward the center. A look at the trail map below will provide a clear visual. With a bit of concentration intermediates will be able to descend the steeper sections but should be aware of glossy, wind blown ice patches at times.
Advanced: There are some serious speedy black runs dropping down the center of the mountain including Otaka & the famous Japanese Ski Association certified giant slalom run, Hayabusa. Advanced skiers & snowboarders will have a great time on the upper portion of the mountain, but generally find themselves thinking about the top half of the run for a while during the long, mellow return to the base-area gondolas.
Appi Kogen Off-piste Skiing & Snowboarding

The off-piste skiing & snowboarding policy at Appi Kogen is officially no different (nor any better) than many ski areas in Japan — off-limits. However, the patrolled slopes of Appi receive so much snow that resort management designates a handful of runs  "ungroomed pistes", preventing us from giving Appi a lower off-piste rating.
Tree riding at Appi isn`t great as the birch are not widely spaced, but there are a few spots where you can slide through the trees for some good fun.
Riding under the lift line, although tantalizing due to verticality and steepeness, isn`t allowed at Appi Kogen so we`re officially unable to tell you how unofficially good it is. If you intend to ride directly beneath the main gondolas, be aware that there is a concrete dam system hiding underneath the piles upon piles of aspirin pow creating an undulating effect that can catch you off-guard if visibility is bad or give you fun fluffy pillow drops when the light is good. But it`s off-limits…officially.
Mount Maemori
The Second Slopes Third Run to far riders right descending from the top of Mount Maemori offers 800 meters of unpisted patrolled terrain that gets hit pretty quickly on pow days (and for good reason). Two other ungroomed runs slicing down the rightish-center of the ski hill — First Sailor Run A (2500 meters) and Second Sailor Run A (2300 meters) — can also get tracked fast but provide massive vertical and tons of faceshots.
Mount Nishimori
Two runs located on Mount Nishimori (1328m), accessible via green trail dropping down the backside of Mount Maemori, remain ungroomed. In our opinion, the Inuwashi and Yamagara courses offer some of the most enjoyable, easily lapped terrain at Appi. Unless you know it`s there, your attention is drawn to the massive vertical runs directly off the main peak making this a much quieter spot. These trails are advertised as "natural descents in deep powder snow" which scares away the majority of domestic riders at Appi who are generally lower level skiers & boarders. Mt. Nishimori trails aren`t extremely long but they provide a fun fall-line with some trees to dip in-and-out-of. If accessed at the right moment when the small double chair begins operating (which is sporadic due to weather), you`re in for some good times.
Appi Kogen Crowds

Weekday crowds: If you make it to Appi on a weekday outside of holiday periods, you probably won`t be alone but you`ll definitely be able to shred wildly without risk of bumping into anyone until you hit the lower portion of the mountain where beginners train.
Weekend crowds: Appi Kogen attracts a pretty substantial weekend crowd, but as mentioned, the terrain is wide and expansive which disperses skiers & snowboarders across a broad ski area. Likewise, there are so many beginner/low intermediates that if you`re an advanced rider you can often escape the hordes for much of the day.
Appi Kogen Ski Lifts

There are eighteen (18) ski lifts at Appi Kogen — 2 gondolas rising from the base, 3 quads, 11 slow double chairs and 2 surface tows.
Aside from the two main base area gondolas to the top of Mt. Maemori and the double chair accessing the ungroomed snow on Mount Nishimori, we didn`t pay much attention. We got desensitized because there were seemingly so many useless lifts, including random defunct old rusting chairs that were visually interesting but not helpful. We simply by-passed most of the lifts as we lapped tons of vertical meters from top to bottom, returning with the 6-seater gondolas.
Be aware (and amused) by the few "skiers only" lifts on riders-left of the mountain, including No. 3 Chair C accessing the intermediate/advanced Kakko and Kitsutsuki runs. Don`t worry knuckle-draggers, there are bigger and better stashes all over the mountain.
Appi Kogen Snow

Cold temperatures and high elevation make the snow quality & totals excellent at Appi Kogen. The resort advertises "aspirin snow"  and we agree. Ripping through the abundance of aspirin snow at Appi will definitely leave you headache free. But you might need some ibuprofen for your thigh-burn after riding for a full day down the wide, long, groomed & ungroomed trails at Appi.
Appi Kogen Mountain Stats & Ski Trail Map
+ Terrain
Beginner: 30%
Intermediate:40%
Advanced: 30%
# of Runs: 21
Longest run: 5.5 km
+ Elevation & Snowfall
Base elevation: 476m
Summit elevation: 1304m
Vertical: 827m
Avg. yearly snowfall: 8 meters reported (*Appi reports snowfall totals AFTER grooming, so it likely receives 12-15 meters)
Season: mid-November to early-May (*one of the longest winter seasons in Japan)
+ Ski passes & Operation Hours
1 day (day & night ski): 5200yen
1/2 day: 4900yen
Night ticket: 2400yen
Weekday Hours: 8:30am-4:00pm
Weekend Hours: 8:00am-4:00pm
Night riding: Yes, 4:00pm-8:00pm
*reduced full/half day lift tix prices for children & seniors
+ Access
Nearest town: Hachimantai (2km); Morioka (45km)
Nearest train station: Morioka JR (45km, 1 hr. transfer); *a closer train station exists geographically (Iwate Numakunai Station), but does not offer bus transfers or convenient winter access to Appi
Car: 12km from Matsuo Hachimantai IC (Tohoku Expsy), 45km from Morioka city
Public bus: Yes, Morioka city (45km);  *local ski shuttle bus not available as of 2014, but plans in development

*Car recommended: Yes
Appi Kogen Snowtrip Tips
Snowtrip Tip 1, Appi`s snow is amazing, Appi`s weather isn`t always as nice.
It`s a good idea to give yourself some flexibility when planning a ski & snowboard trip to Appi Kogen. Strong winds routinely rip across the Hachimantai Plateau making riding conditions challenging and can lead to lift closures. Be sure to wear good winter gear as most days at Appi will likely be quite cold and commonly windy. Face masks, scarves, weatherproof coats & pants, warm riding socks and quality gloves/mittens are mandatory. You`ll probably see the sun too, but it won`t make you warm like thermals.
Snowtrip Tip 2, If you want to ride off-piste…

The off-piste riding  policy at Appi isn`t different than a lot of ski areas in Japan…off-limits. However, the handful of trails that remain ungroomed are excellent powder runs and are some of the widest, longest, lift-accessed trails in Japan.
Snowtrip Tip 3, If you don`t have a car find someone who does.
Public transport accessibility is not a strong suit of Tohoku, making it challenging to bounce from ski hill to ski hill in the region without a car. If you`re comfortable operating a vehicle in harsh winter weather on the left side of the road (e.g., same side as in the UK), a car will give you the best chance to freely explore the beautiful surroundings of the Hachimantai National Forest, its wonderful onsen and other secluded spots most tourists never get to see.
Snowtrip Tip 4, Stay near the slopes.

If you plan to ski or snowboard at Appi Kogen for multiple days without a car (which there is enough terrain to keep you busy) Morioka is a bit far of a daily commute, so consider staying at the modern ski-in-ski-out Hotel Appi Grand. It`s got nice sized Western rooms, 5 restaurants, free internet, indoor pool, exercise facilities, convenience store and other comforts you`d expect from a top ski resort hotel.
You might also be able to find a local homestay in Tohoku, Japan near Hachimantai National Forest that`ll kindly welcome you and share a local cultural perspective of the region, not to mention give a great base to explore  other Tohoku skiing & snowboarding spots.
Snowtrip Tip 5, No  Japanese ski resort would be complete without onsen. Appi is complete.
 The public bath in the slope-side hotel can be reserved by guests only, but there are a handful of other nearby hot-springs that`ll keep your thighs ready to attack the slopes every morning. Two of our favorites require a car and some wintry Tohoku driving, but they`re worth it.
The Matsukawa hot spring on Mount Hachimantai is a rustic, 270 year old onsen masterpiece with milky, sulphuric cauldrons of healing hot-water. It`s so old-school there are wooden skis and outdated ski resort posters everywhere.  We love it. The second, more modern onsen became famous in the 1980s after a visit from the Japanese Royal Prince to the Hachimantai Heights Hotel. It`s a nice indoor spa with naturally heated water that also has a "500 Yen" video game room to win little stuffed animals via robotic arms. Also love it. Go to our Onsen Etiguette & Guide to make your Japanese onsen experiences fun ones.