Tazawako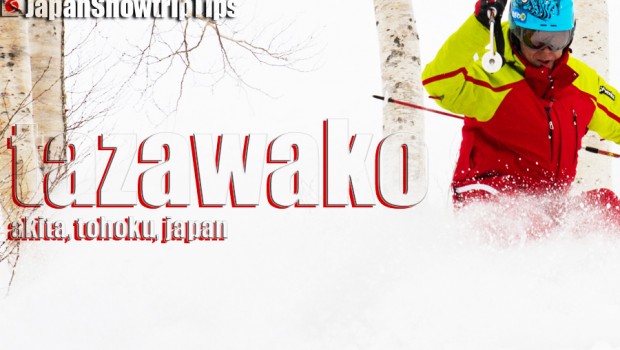 Published on April 21st, 2013 | by Japan Snowtrip Tips
0
Tazawako Ski Area, Akita, Japan – Snow fun and friendly vibes above the crater
Tazawako Ski Area Review
Summary: Magical views, deep snowpacks, wide crowdless trails, solid infrastructure and welcoming vibe make Tazawako a northern Honshu ski hill we`ll shred again & again.
4
Secret Tohoku Pow Stash
Overlooking Japan`s deepest crater lake — Lake Tazawa — sits one of Tohoku`s most beautiful & best kept powdery secrets.
Located just across the prefectural border between Akita and Iwate on the Japan Sea-side of northern Honshu, Tazawako Ski Area has a lot to offer skiers & snowboarders of all abilities.
The appeal of Tazawako hasn`t escaped the notice of local northern Honshu Japanese, but otherwise the wide, snow-filled slopes of this well laid-out Tohoku ski center remain largely untraveled by snow sliders from outside of Japan.
Tazawako isn`t the easiest ski hill to access, but if you make the journey you`ll be rewarded with excellent snow, fun terrain, great food, historic near-by onsen and a friendly attitude that sometimes gets lost (even in Japan) at larger, more highly traveled ski areas.
Tazawako On-piste Skiing & Snowboarding

The trails at Tazawako are wide and long by Japanese standards, with most maintaining an enjoyable gradient throughout their descents. Although there isn`t anything extraordinarily steep to contend with, the terrain is evenly distributed in percentages of difficulty allowing for full-day mixed-level enjoyment.
Beginner: There are four long beginner trails spaced-out across the resort providing nice opportunities for low level-skiers & snowboarders to explore beyond the usual isolated novice trails offered at a lot of other ski areas. The Kokutai Course cutting from skiers right to left across the ski area gives great views onto the lake, while all beginner courses are substantial enough in length to allow for meaningful practice on the way down.
Intermediate: Statistically, Tazawako indicates an even distribution of terrain difficulty, but the majority of the terrain feels decidedly intermediate throughout the ski area. This attribute is beneficial for visitors in mixed-level groups or families with "in betweener" ability levels, allowing you to (generally) stick together across much of the ski hill. All trails marked "red" are enjoyable intermediate pistes, while the Shirakaba Course, reachable via two-stage chair lift connection, delivers the longest continuous mid-level trail from top-to-bottom totaling 1600 meters.
Advanced: Tazawako is a serious ski racer training ground with a lot of emphasis placed on prepping Japan`s future stars between the slalom gates. Yet at first glance hard-charging piste bashers with Super-G ambitions won`t be blown away by the "black" terrain at Tazawako. But a closer examination (i.e., ride down the mountain) will prove that mellow looking Tazawako can put your belly in your throat pretty quickly on a corduroy groomer. One of the speediest trails with a somewhat tricky fall-line is the Kuromori Course (33°) off to the far left of the resort as viewed from the base, accessible via lone two-seater. The fastest, longest piste with 38° pitch and 1000meter vertical descent is the Mizusawa Champion Course, located on the extreme opposite side of the resort to the far right when viewed from the base area.
Tazawako Off-piste Skiing & Snowboarding

Much to our liking, the Tazawako mountain operations crew leaves a lot of the ski hill up to the whims of Mother Nature, i.e. ungroomed and full of fluffy pow. Deep snow can be found everywhere across the upper portion of the ski area, including on what would normally be groomed pistes at a lot of other ski hills in Japan.
Terrain alongside the Kuromori Course (far riders-right) is left untouched by pisten-bully`s, providing more than 500 meters of untouched powdery bliss. It`s also not uncommon for the black Komagatake Course (riders right of the upper-most two-seater) and black Mizusawa Champion Course (far riders left of ski area) to remain ungroomed after a fresh dump delivering a combined 1650 meters of lift-accessible faceshots.
There are also some nice trees to slice through at Tazawako, but for the most part, the wooded sections accessible by lift are tight and less free-flowing than other ski areas in Japan. Likewise, the pitch in the trees at Tazawako is flattish, albeit immensely silent & beautiful without another track in sight.
Tazawako Crowds

If you can`t find a parking place close to the main entrance, you`re at the wrong Tazawako. Aside from holiday periods, you`ll never wait in a lift line and likely never have to race anyone for a fresh pow line (except for your lunatic riding buddies). You might have to park a bit farther away from the main entrance on Saturdays or Sundays, but weekends at Tazawako won`t frustrate you like at busier places in Nagano prefecture or Hokkaido.
Tazawako Ski lifts

There are six (6) ski lifts at Tazawako. All lifts are detachable chairs — four 2-seaters and 2 quads. The lift system is not fast, nor is there a full bottom-to-top lift, but the layout is efficient and doesn`t clutter the terrain. If you`re the kind of skier or snowboarder who enjoys trudging up slippery steps to stand in line waiting to pile into cramped gondolas that take 15 minutes to the top, Tazawako isn`t the place for you. If you appreciate a generally efficient, slower-paced lift system that allows you to breath in the Tohoku mountain air and admire the picturesque surroundings, then maybe we`ll see you on one of the mellow chair lifts at Tazawako someday.
Tazawako Snow

Every snow comparison in Japan always (justifiably) gravitates back to whether or not the snow rivals Hokkaido deepness &  dryness. Hokkaido powder is unlike any snow on the planet, but northern Honshu, Akita powder is impressive in its own right.
Tazawako Ski Area sits on the lower flank of a three-peaked volcanic giant rising to its highest point at 1637meters, which acts as a meteorological blockade between the Japan Sea and Tohoku`s larger inland giant to the East, Mount Iwate (2038 meters). Elevation, westerly aspect toward strong precipitous weather systems and consistently cold temperatures throughout the winter season make snow totals & snow quality extremely nice at Tazawako. There is a slight bit more water content to the snowpack than Hokkaido, but the coldness eliminates any "heaviness" and reminds us of something between Colorado champagne & Montana cold smoke. Is the snow at Tazawako as perfect as on Japan`s Northern Island? No. But how "imperfect" can loads of light, dry untouched blower pow be?
Tazawako Mountain Stats & Ski Trail Map
+ Terrain
Beginner: 30%
Intermediate:30%
Advanced: 40%
# of Runs: 13
Longest run: 3km
+ Elevation & Snowfall
Base elevation: 578m
Summit elevation: 1186m
Vertical: 608m
Avg. snow depth: 210cm
Season: mid-December to mid-April
+ Ski passes & Operation Hours
1 day (8 hour): 3800yen
6 hour: 3700yen
4 hour: 3200yen
3 hour: 2800yen
single ride: 400yen
11 rides: 4000yen
30 hour tix: 21,500yen
Daily Hours: 9:00am-4:00pm (Dec.-end March), 9:00am-2:00pm (April)
Night riding: No
*lift tix + lunch package = add 900yen to lift tix price
*reduced lift tix prices during April Spring Operation Hours
+ Access
Nearest town: Semboku City, Akita
Nearest train station: Tazawako JR (30 min Morioka, 56 min. Akita)
Car: 49km from Morioka IC (Tohoku Expy.), National Route 341 / Prefectural Road 127
Public bus: Yes, Tazawako JR station, 13 RT buses per day (30 min. travel)
*Car recommended: Yes
Tazawako Snowtrip Tips
Snowtrip Tip 1, Soak in the views then soak your bones
The views down toward Tazawa-ko (Lake Tazawa), as well as magical snow covered trees make this ski area one of our visual favorites in all of Japan. But after you melt your mind with the inspirational surroundings, we suggest melting your sore muscles at nearby Nyuto Onsen in some of Tohoku`s most historic hot springs.
Snowtrip Tip 2, The weather gods can be brutal at Tazawako…1 day might not be enough
Lake Tazawa is incredible. It`s Japan's deepest lake (432meters) and mesmerizes snow riders looking down toward its shores from the ski area. But Akita (and Tohoku in general) witnesses some of Japan`s harshest weather, often creating white-out conditions that obviously impede views of the incredible surroundings. If you have the chance, we recommend allowing a couple of days in/around Tazawako to alleviate the risk of missing out on some of the most enjoyable riding & scenery on wintry Honshu.
Snowtrip Tip 3, Get into the Tazawako backcountry
The real off-piste appeal is out of bounds above the Tazawako Ski Area boundaries descending from atop Mount Komagatake. You can book a guide and rent or buy any avalanche safety gear that you need in the ISG shop on the main upper floor of the ski lodge at the ski area base. Another option is to book a group cat ride out of bounds, but this option requires a serious degree of backcountry competence & local knowledge as guiding isn`t included. Do it safe, do it right. Book a guide. Check out this comprehensive backcountry safety gear checklist to help you prepare for your off-piste skiing & snowboarding adventures anywhere in the wintry world.
Snowtrip Tip 4, Drink the local brew & eat the local food
If you usually skip buying lunches at ski hills because the food tastes horrible and is horrible for your body, we`re in the same club. But Tazawako offers very good food selections for lunch (we recommend the pork ramen) Tazawako also is home to its own unique micro-brew. There are a few varieties of suds to try, but if you`re in the mood to change it up from the usual Japanese lager or blonde, go for the Germanic inspired dark amber-colored, Tazawako Beer ALT.
Snowtrip Tip 5, Drive responsibly so you can ride like a maniac
Normally we advise using public transport during a Japan skiing & snowboarding trip, but accessing Tazawako requires a bit more logistical planning and would be easier with your own private set of wheels. If you take our advice from Snowtrip Tip 6 below and decide to drive from Morioka (45-60min.), use extreme caution navigating the pass between Iwate & Akita prefectures. Twists, turns, short tunnels, steep gradients, brutal snow storms and very little winter road maintenance (i.e., no salt/sand) can definitely make it a sketchy drive worthy of full concentration.
Snowtrip Tip 6, Stay in Morioka
Morioka, the prefectural capital city of Iwate, isn`t a nightlife hotspot, nor is it Japan`s most picturesque town. But if you`re lookingto catch a glimpse of true Tohoku Japanese life — on and off the slopes — Morioka is a great base to explore from. There are a dozen ski areas accessible from the city center, most ringing the flanks of Mount Iwate, but also to the south (Geto Kogen) and west (Tazawako), accessible via public or private transit within 1.5hrs. If you decide to use public transport, your JR Pass will get you from Morioka station to Tazawa station for free, then from there you can hop on a local bus that takes 30 minutes.