Geto Kogen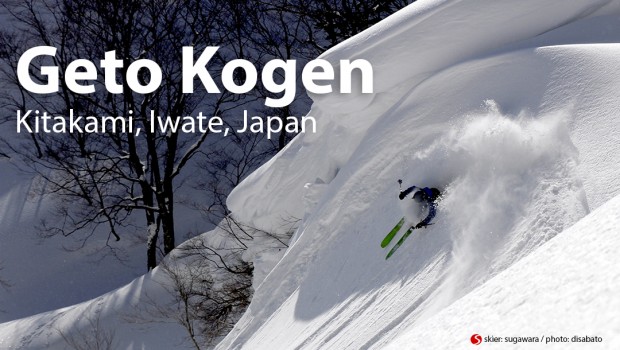 Published on September 25th, 2017 | by Japan Snowtrip Tips
0
Geto Kogen Snow Resort, Kitakami, Iwate, Japan
Geto Kogen Snow Resort
Summary: Untraveled, unpretentious and underneath piles of pillowy Japow, Geto Kogen ski area, located 40 minutes west of Kitakami in Iwate prefecture, delivers exactly what hardcore pow junkies are looking for on a Japan skiing or snowboarding trip. Get to Geto while the gettin`is good, which is anytime from mid-December to March when the "Japow reset button" gets pushed by Mother Nature nearly every day.
4.3
Northern Honshu hidden gem
It won`t take long during your visit to Geto Kogen Snow Resort in Iwate prefecture to recognize that you will be entering relatively uncharted Japan snowtrip territory.
The mountain vistas from the ski area summit are spectacular, while the rural surroundings in the valley offer authentic opportunities for Japanese cultural immersion with interesting museums, historic traditional onsen complexes, ever-present samurai heritage, food delicacies and local smiles that remind you of how special a Japan snowtrip to this region can be.
Chilled-out vibes, solid base lodge facilities, comfortable shared accommodations, great on-site onsen, rental shop & ski school (limited English), good food, family friendly indoor children`s zone and the most important components of all — excellent snow and terrain — make Geto Kogen one of our favorite ski areas in Japan.
If you prefer to mix alcohol-laced post-pow debauchery into your Japan skiing or snowboarding trip, this isn`t the spot for you. Geto Kogen is low-key, familial and lacking in after-party amenities.
But if you`d rather bypass the overcrowded party slopes on the other Island (knock-knock who`s there: Niseko) and discover a welcoming northern Honshu mountain operated by folks who are ready to give the big boy resorts on both Islands a wake-up call as to who is one of the new primetime players in the Japow game, get to Geto Kogen before it`s overrun.
Geto Kogen On-Piste Skiing & Snowboarding

The trails at Geto Kogen are wide and well groomed…unless they`re left ungroomed as they often are on pow days! There are only a handful of trails and generally cater to the intermediate crowd. There is a flattish trail that traverses the entire resort along the top ridgeline that serves as a great aid for off-piste riders looking for stashes below in the trees, but otherwise, here`s the deal: If you made the journey from half-way around the world, or even from Tokyo, to experience the best of what Geto Kogen has to offer, you`ll be disappointed if trail riding is your top criteria. The trails are in fact quite good, but hopping off the trail into the untouched white gold at Geto Kogen is what a snowtrip to Iwate`s powder kingdom is all about.
Geto Kogen Off-Piste Skiing & Snowboarding

The mountain spreads out right in front of you from the base, providing an illusion of uniformity. But the gondola ride to the top reveals that the terrain is truly a three-dimensional powder playground full of multiple broad spines dropping away on either side into tree-lined bliss.  Although not large even by Japanese standards, the off-trail terrain at Geto Kogen is generally steep, offers excellent tree riding opportunities and is regularly filled to your armpits with Japow. There are still quite a few official restricted zones, but Geto Kogen mountain operations manager, Hide Sugawara, is hard at work opening new in-bounds riding zones as fast as he can get approval from governmental land regulators with continual expansion scheduled through 2018.
Entering the backcountry at Geto (as at nearly any mountain resort) requires local guidance as the terrain harbors heavily corniced chutes-and-gullies that spit you out far from infrastructure if not careful. One problem, of which mountain leadership is addressing in the near future, is that professional guides in the region are more-or-less non-existent. The reality though, is that powder possibilities within the marked boundaries at Geto Kogen are plentiful and won`t leave you needing to search too far afield even multiple days following a storm. Mountain ops personnel have marked specific trees in the beautiful birch forests within the boundaries (orange paint) to serve as visual markers to make sure you head back toward the lift infrastructure following your blower pow descents. Beware, regardless of whether you slide on one plank or two, short bits of skating/walking will be mandatory to exit gullies that were too steep-n-deep to pass up before flattening out. All-in-all, Geto Kogen off-piste will put a smile and faceshots on your face for days and continues to get better with more open terrain yearly.
Geto Kogen Lifts

You won`t get lost on the lift system at Geto Kogen. There are 2 pair lifts, 2 gondolas and 1 quad. Choose your favorite — we recommend sticking to the main gondola as you can access nearly everything from there — and submerge on the way down toward your return journey. Life is simple at Geto…shred and shred again.
Geto Kogen Crowds

Currently, weekday crowds do not exist. Locals and school kids from coastal Miyagi, Iwate provincial capital Sendai, and nearest town, Kitakami (45 minutes away by car) constitute the "crowds" on weekends. It won`t be long before Geto Kogen starts seeing more foreigners, but limited on-hill lodging — 88 shared sleeper cabin-style bunk beds — keeps the crowds to a minimum. Plans for a mixed Western/Japanese style hotel around 10 minutes from the resort are in discussion, but as of 2017-18, when the lifts open in the morning the only smiling faces you`ll see competing for freshies will be the same ones with whom you shared your delicious ¥5400 per night half-board fare meal from the night before.
Geto Kogen Snow

Measuring annual snow depth at Geto Kogen can be tricky. Local reports suggest around 6 to 8 meters on average, but windy, white-out conditions often rule the day mid-winter creating inconsistencies in measurements, as well as super deep wind drift zones. You will definitely want to bring along your warmest Japan snow trip threads as temperatures hover only around -4 C during the day and -9 C at night. You`ll also want to be sure to bring the floatiest pow stick(s) in your quiver to Geto Kogen. Located at a meteorlogical/topographic crossroads where two mountain ranges connect causing storms to collide at the summit, the "Japow refresh button" is consistently pressed by the yuki kami (snow gods) at Geto Kogen from mid-December until early March. Great Spring conditions also continue into May.
It must be stated that weather is a key factor and can truly be a disruptive force at Geto Kogen. Wind and white-outs are common, although lift closures are reportedly rare with only a singular shut-down on average per month according to mountain management. Visibility deficiencies are off-set when riding in the trees, but you`ll need to carefully calculate your risks during a "normal" day of low visibility at Geto.
Don`t expect to see the sun too often at Geto, but no sun + 1600m elevation + constant snowfall = Japow at its finest.
Geto Kogen Access

We generally recommend public transport for your skiing & snowboarding trip anywhere in Japan. Driving during the winter in Japan is manageable but not recommended, especially when your Japan Rail Pass will get you from airport to city streets to mountain peaks safely-&-easily. Roadways are not maintained to the same level as in North America and Europe during the winter (especially in Iwate) making icy, windy, unfamiliar roads treacherous. If you use your pre-purchased JR Pass on the JR East or JR Hokkaido shinkansen lines from Tokyo to Kitakami, then hop on the Geto Kogen ski bus departing from the main entrance/exit at Kitakami Station, you`ll arrive at the ski area base in only around 3.5 hours from the bustling capital.
The Geto Kogen ski bus operates multiple times per day between JR Kitakami Station and Geto Kogen ski area departing from the train station at 7:40AM, 9:10AM and 10:40AM. The last return bus from the ski area to the station is at 5:00PM.
We love public transport for skiing an d snowboarding trips in Japan, but keep in mind that you will be relatively isolated in Geto Kogen without a car. The same could be said for basically all of Iwate. Public transport options are growing, but still very limited. If your goal is to ride hard all day for a few days, soak in a fantastic onsen, eat and sleep well at night so you can shred the goodness the next morning, then you won`t need a car. But exploration around Kitakami and throughout Iwate prefecture is still heavily reliant on car access, so if you`re looking to discover the Samurai heritage of the region, utilize a nearby historic Kitakami hot spring resort as your Geto Kogen ski trip base or visit the surprisingly memorable museums not far from Geto Kogen, a car is a good investment. By car, Geto Kogen is 6.5 hours from Tokyo and 2 hours from Sendai.
 Geto Kogen Ski Trail Map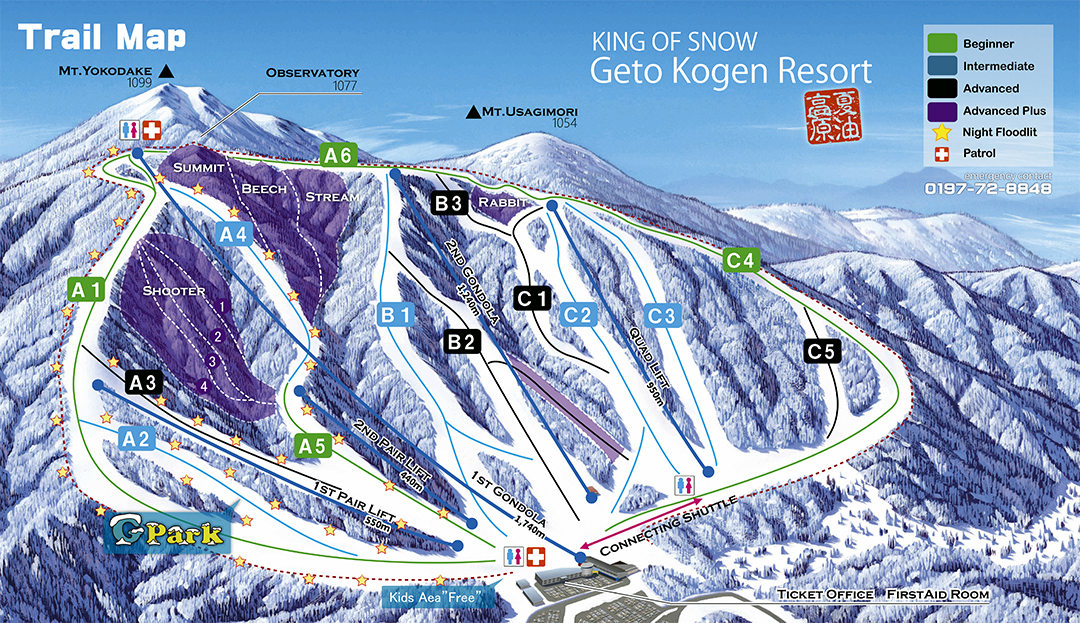 Geto Kogen Snowtrip Tips
Snowtrip Tip 1: The lodging is basic but the amenities are top class.
Shared bunk accommodations (88 total spaces) are about as far from 5-star as you can get, but the food quality, service, cleanliness and indoor/outdoor onsen will satisfy even the most experienced Japow travelers. The comfortable half-board accommodations — ¥5400 per person/weekday, ¥5900/weekend —  are located directly in the base lodge facility allowing ease of access for end of day relaxation and early morning freshies. Although the lodge shuts down operations around 5:30 or 6pm, guests have free reign throughout the area all night for vending machines or to access the smoking room. The nice onsen (with sauna) included free for overnight guests is open from 10am-10pm and provides public access from 10am until 5pm for a 700 yen fee. There is normally staff behind the desk until around 10pm in case of any difficulties and there is also a selection of snacks/drinks for purchase if you get the late night munchies.
Snowtrip Tip 2: Japanese culture is intriguing and often confusing to Westerners. These Iwate museums won`t take away the confusion, but they will bring you closer to Japanese culture in fun, affordable and worthwhile ways.
Iwate is often forgotten as a cultural destination and in many ways remains in a time warp that seemed to stop decades ago. But don`t sleep on the incredible cultural opportunities that await in this region. Three unlikely museum gems on the cultural side trip trail that will make your Japan snowtrip to Geto Kogen even more memorable are within an hour or less by car. The Showa no Gakkou nostalgia museum in Hanamki is a trubute to Showa Period Japan and arguably one the country`s most enjoyable private museum experiences, while the Oni Museum (Japanese gods) and Kitakami Natural History Museum at Tenshochi Park (alternating special exhbits) both provide meaningful short excursion options to connect with Iwate culture.
Snowtrip Tip 3: Deep pow, no doubt. Big air? Geto delivers it too.
Geto Kogen knows how to keep the shredder kids happy. Respected and influential Japanese snowboarding pro, Atsushi Ishikawa, has been brought in to "shape up" the terrain park crew and puts together a fun little jib spot at the "G Park" with a few kickers, rails and features to help you change-up your day of blower faceshots by adding the option to throw your most stylish aerial masterpieces.
Snowtrip Tip 4: Snow cat connections for learners and lazies…
As of 2017-18, there are no backcountry snow cat operations at Geto Kogen, but there is a snow cat that transports skiers & boarders between the base lodge and farthest chair lift. Advanced skiers and boarders can easily skate faster than the cat to reach the goal in only a few minutes, but if the snow is super deep or you are a novice snow slider, this amenity will serve you well and keep you from exhausting yourself.
Snowtrip Tip 5: Have you ever skied or snowboarded in Tohoku or Akita? Judging by the lack of crowds, probably not.
Northern Honshu often gets lost in the Japow tourist shuffle as it generally lacks amenities and consistent transport conveniences that many Japan snowtrippers enjoy. But if unpretentious locals, uncrowded trails, untouched pow and undiscovered cultural side trips create your idea of a meaningful Japow journey, then Geto Kogen (Iwate), Tazawako (Akita) and other nearby ski hills are your kind of spots.