Hanazono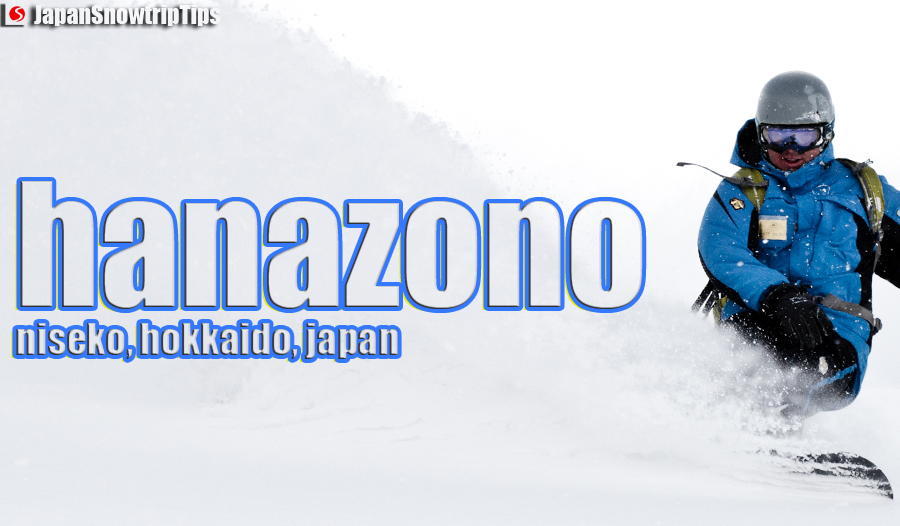 Published on January 24th, 2015 | by Japan Snowtrip Tips
0
Niseko Hanazono Resort Skiing & Snowboarding Review – Early morning blower pow, apres beers, sleep, repeat
Niseko Hanazono Ski Resort Review
Summary: Niseko Hanazono doesn`t have the notoriety, trail system, lift infrastructure or night-life of neighboring Hirafu, but that`s just fine with us. Less crowds, amazing snow, excellent backcountry access points, great lodge and two of Niseko`s top instruction/guiding companies housed at the base make Hanazono one of our favorite Niseko United ski resorts for early morning freshies and slopeside apres ski beers.
3.7
Same great snow, less lines
Located on the north-eastern flank of Mt. Niseko Annupuri, Niseko Hanazono has the smallest trail system, fewest lifts and some of the mellowest groomed terrain of all four Niseko United Resorts. Sounds like you should skip Hanazono and stick to the other three resorts right? By all means, please do…that`ll leave the hidden goodies for us.
What Hanazono lacks in size compared to its neighbors it makes up for with great snow quality, fun easy access tree runs and a host of other desirable traits that make it one of our favorite Niseko resorts to start and finish a pow day.
You`ll need to stay in one of the other villages as Hanazono doesn`t have on-site accommodations, but no worries. We recommend the super swanky, surprisingly affordable Kizuna Apartments in the Hirafu Upper-village as there`s a free Hanazono shuttle-bus stop right outside the front door that`ll bring you to and from the powpow between 7:50am-5:10pm everyday.
Along with wide trails for lower and mid-level skiers & snowboarders, Hanazono is home to a multi-stage terrain park, excellent Hanazono 308 base lodge and some of the best boundary exits into blissful Niseko pow you`ll find anywhere across the four resorts.
Hanazono Powder Guides (HPG) are Niseko`s go-to backcountry pros that`ll show you those memorable stashes right after the sun comes up, while NISS (Niseko International Snowsports School) is arguably the top snowsports education firm in the Niseko United family to get you happily sliding more confidently. Both companies are conveniently located in the Hanazono 308 lodge.
Hanazono also has privileged positioning as early morning snow stays protected from the wind and sun (begins on the other side at Niseko Annupuri), while end-of-day rays bathe the Hanazono 308 Lodge in orange glows that make it the perfect spot to finish-out your final runs of the day.
Hanazono Resort On-piste Skiing & Snowboarding

Advanced piste-bashers looking for challenging slopes won`t find them at Hanazono, but that`s just fine with the happy families, kids, beginners and intermediates that love the nearly 800 vertical meters of mellow cruiser trails ending at the Hanazono 308 Lodge. Freestylers will definitely fit-in at Hanazono. There are three parks — located on Upper Stairway to Heaven (2) and Lower Silver Dream (1) — with bumpin`beats blaring over the loudspeakers and features ranging from beginner to expert.
Hanazono Resort Off-piste Skiing & Snowboarding

Trail map views of Niseko Hanazono don`t do the place much justice as you`ll be surprised by the fun tree runs within the boundary. But the real Hanazono pow isn`t officially Hanazono pow…or is it? Hanazono`s greatest attribute in our view is that sidecountry/backcountry access is excellent and with HPG`s First Tracks Program, you`ll quickly discover that just because Niseko`s excellent terrain outside the boundary isn`t officially Hanazono Resort`s, it sure feels like it.
Hanazono Resort Crowds

Another great attribute of Hanazono Resort is that crowds are smaller than at connected Grand Hirafu. Lines can be long at the Hanazono Hooded Quad #1 on powder-filled mornings, but you won`t see overwhelming hordes of people bottling-up the trails throughout the day. Holidays are busy, but it`s snow-covered (up to your eye-balls) Niseko…er, Australia…er, Niseko after all.
Hanazono Resort Ski Lifts

The lifts at Hanazono aren`t very efficient in our opinion. Redundant is a word that comes to mind…just too much wasted time on a total of only 3 lifts that could be solved with a more effective system that uses less lifts from bottom to top. But realistically, the inconvenient segmentation of the lifts probably helps disperse crowds better, allowing for a lot of elbow room on your ride down.
Hanazono Resort Snow

Snow pmmels Hanazono as expected in one of the planet`s powder capitals. Hanazono`s prime backcountry guides aren`t called Hanazono Powder Guides for nothing…
Niseko Hanazono Mountain Stats & Ski Trail Map
+ Terrain
Beginner: 25%
Intermediate: 63%
Advanced: 12%
# of Runs: 8
Longest run: 3.3 km
+ Elevation & Snowfall
Base elevation: 308m
Summit elevation: 1040m
Vertical: 732m
Avg. snow depth: 215cm
Season: early December to early April
+ Ski passes & Operation Hours
1 day Hanazono+Hirafu Combo: ¥5100
1 day Niseko United: ¥6400
1/2 day Hanazono: ¥3900
Weekday/Holiday Hours: 8:30am-4:30pm
Night riding: No, but if you buy a Hanazono+Grand Hirafu combo, your ticket is valid at Grand Hirafu Ski Area in the evenings, 4:30pm-9:00pm
*reduced rate multi-day Hanazono or Niseko United passes available
*reduced full/half day lift tix prices for children & seniors
+ Access
Nearest town: Kutchan Town
Nearest train station: Kutchan Station (15km)
Car: Route 343 from Kutchan for 1km then follow signs toward Hanazono
Public bus: Yes, free Hanazono Shuttle operates 7:50am-5:10pm between upper & lower Hirafu Village and Hanazono 308 Lodge

*Car recommended: If staying in Hirafu, a car is not recommended, but otherwise it`s helpful from Niseko Village, Niseko Annupuri or other parts of Western Hokkaido.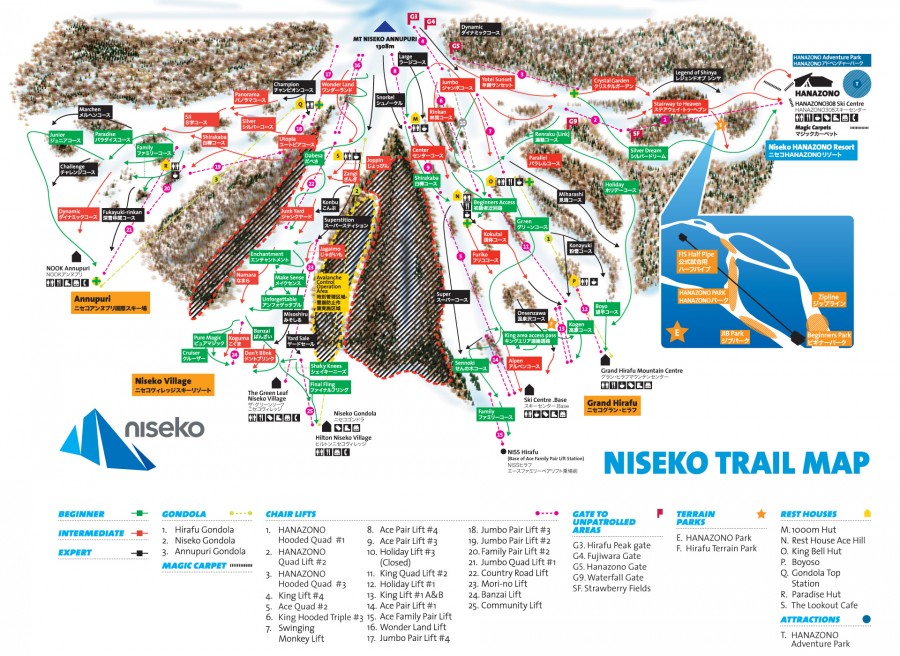 Niseko Hanazono Snowtrip Tips
Snowtrip Tip 1: HPG = POW
Is playing in Niseko`s trademark powder before everyone else can even ride the lift in the morning important to you? Silly question right? Hanazono Powder Guides are one of the top backcountry skiing & snowboarding guide services in all of Japan and have a special deal that only they can offer. Find out how to be first and have the last laugh in Niseko with HPG.
Snowtrip Tip 2: Knock down the ski school language barrier with NISS
We love Japanese culture and their strong connections to centuries-old cultural heritage, but the language barrier at Japanese ski areas can be problematic if you`re looking for English-speaking ski & snowboard instructors. Similar to the reputation of HPG, the Niseko International Snowsports School (NISS) is one of Japan`s top English speaking ski & snowboard schools. All levels of skiers & snowboarders can benefit from the technical expertise of NISS, as well as from their local knowledge inside the Niseko boundary on pow days.
Snowtrip Tip 3: The 411 on 308
Hanazono 308 — named for its elevation at 308 meters — is an excellent base lodge facility at the bottom of the Hanazono slopes. Hanazono 308 is home to HPG, NISS, top-brand retail/rental/repair shop and very good cafeteria-style restaurant that serves some of the best ramen (with crab legs) you`ll eat anywhere in Japan. The 308 lodge is a great place to start a pow day, stop for lunch and finish your day under the setting Niseko sun with an apres ski beer. If you`re not really in the mood for a full-blown meal or rest during your powder day at Hanazono, drop by the Hana 1 Cafe instead for a quick hot-drink or snack located right next to the Hanazono Hooded Quad #1 at the base.
Snowtrip Tip 4: Hanazono shuttle
Hanazono Resort doesn`t offer lodging, so most guests who spend their time inside and outside the Hanazono boundary stay in Hirafu Village. Hanazono makes it easy to get early morning freshies and last runs of the day with a free shuttle to/from upper-and-lower Hirafu Village. The shuttle can cram around 8-12 people with skis/boards and runs daily every 20 minutes from 7:50am-5:10pm. If you want the best of all worlds at Niseko — easy Grand Hirafu gondola access with interconnected ski trails to Hanazono Resort, a Hanazono shuttle stop out front, convenient location within walking distance to Hirafu nightlife & restaurants and flat-out one of Niseko`s best accommodations — reserve a room at the beautiful Kizuna Apartments in Niseko Grand Hirafu upper-Village.