Grand Hirafu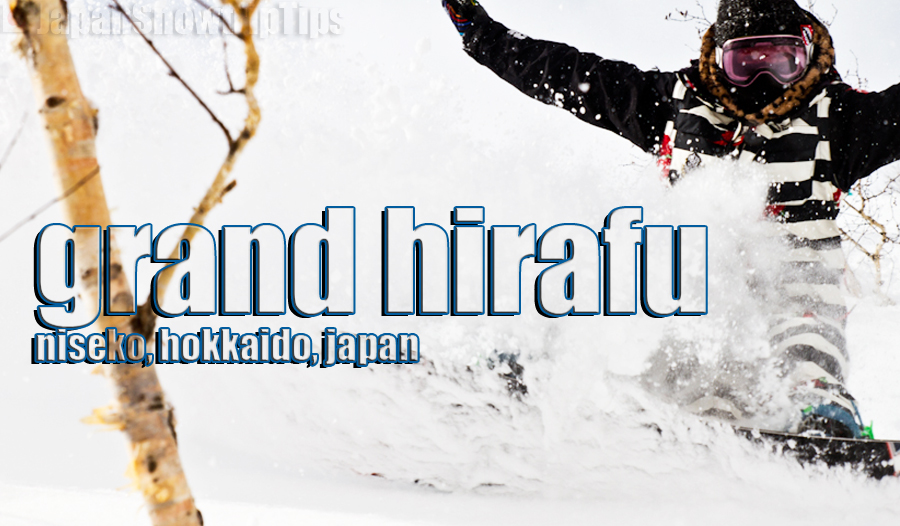 Published on April 22nd, 2014 | by Japan Snowtrip Tips
0
Niseko Mountain Resort Grand Hirafu Skiing & Snowboarding Review – Niseko`s action-packed centerpiece
Niseko Mtn. Resort Grand Hirafu
Summary: Hirafu Village has become famous (or infamous) when the sun goes down as Japan`s premier international ski area nightlife hotspot. But the deep day-time action at Niseko Mtn. Resort Grand Hirafu is where it all got started. Hirafu has the best lift system of all four Niseko United Resorts, long trails with fun pitch & vertical, fantastic lodging options and signature Western Hokkaido blower snow conditions that make it one of the prime skiing & snowboarding holiday destinations in Japan.
3.6
Center of it all in Niseko
When someone says they`re going to Niseko for powder skiing & snowboarding, Niseko Mountain Resort Grand Hirafu is often the spot they`re talking about.
The Hirafu Area on-&-off the slopes is the liveliest and most developed of all four Niseko United ski resorts wrapped around the base of Mt. Niseko Annupuri.
The two zones of Hirafu Village (upper & lower) each have pros-&-cons for choosing as a base for your Niseko skiing & snowboarding holiday.
Upper Hirafu Village is closest to the ski lifts and harbors some of the newer, excellent lodging options within walking distance of the Hirafu Gondola like the Kizuna Apartments.
Lower Hirafu Village is where the nightlife gets hoppin`and also has some of Niseko`s top restaurants that require advance bookings throughout the winter.
Hirafu`s slopes can get definitely crowded as it`s the most central point of the connected Niseko United resorts. But if there are crowds, there`s got to be a good reason right?
Three letters sum it up…POW. Actually, three letters aren`t enough at Grand Hirafu so here`s six…POWPOW.
Niseko Mtn. Resort Grand Hirafu On-piste Skiing & Snowboarding

The groomed trails at Hirafu offer more options for every level of skier or snowboarder than the other Niseko resorts. Trails are long, wide, well-maintained and nearly always powdery from early December through end-March. Top to bottom runs are great fun for beginners to advanced snow-sliders. As the terrain attributes across all four Niseko United ski areas are similar, you can expect steep starting points at the top, a mellower mid-mountain plateau and speedy Red descent for a large portion of the pisted trail system until flattening at the base.
Niseko Mtn. Resort Grand Hirafu Off-piste Skiing & Snowboarding

The upper portion of the Hirafu ski area holds some of the best, wide-open powder fields within the Niseko United boundaries. This section of the Hirafu ski area is designated Black, however intermediate skiers & snowboarders will likely be able to enjoy these ungroomed powder faces as well. The Hirafu off-piste zones are generally lightly treed and provide a lot of space for flowy top-to-bottom runs not far from the groomed pistes. Likewise, as is the case at many ski areas in Japan, much of the normally manicured trail system is left to the whims of powder monkeys and only gets groomed following a days`worth of abuse under happy skis & snowboards. Access outside the boundary is also excellent from the top of the King Lift #4. Beyond that lies the summit only 20 minutes uphill, ultimately opening some of the best, easy access Hokkaido sidecountry/backcountry for snow sliders with proper avalanche safety equipment and Niseko backcountry ski guide.
Niseko Mtn. Resort Grand Hirafu Crowds

There`s no way around it…crowds at Hirafu can be overbearing. Even outside of high-season, Hirafu has the propensity for queues at any lift on the ski hill. But thanks to the wideness of the trails along with direct skiable links to Hanazono Resort on one side, Niseko Village ski area on the other (and backside drops into backcountry bliss from the summit of Mt. Niseko Annupuri) you can usually weave your down at the busiest of times without issue because people often dissipate among the other riding areas.
Niseko Mtn. Resort Grand Hirafu Ski Lifts

Just as the Hirafu Area has the most robust off-slope infrastructure, Grand Hirafu ski area on-slope infrastructure is equally well-developed. There are more lifts and trails — 14 and 30 — at Niseko Grand Hirafu than any other Niseko ski resort. The main mode of upper slope access originates from the 8-person Hirafu Gondola at the base. From there it`s a two stage chair-lift connection to get to the top (Hirafu Gondola-King Hooded Triple #3-King Lift #4).
Niseko Mtn. Resort Grand Hirafu Snow

The snow conditions at Grand Hirafu are generally what you`d expect from a geographic location receiving upwards of 15 meters annually…deep n`fluffy.  When it dumps on the Niseko region, Grand Hirafu is often the recipient of more accumulation than the other Niseko United Resorts. However, keep in mind that trails can get chewed-up drastically fast. If you`re one of the early birds who reaches the top of the Hirafu lift-system first or heads outside the boundary with a knowledgeable backcountry guide in Niseko, you`ll understand why Hirafu has become a province of Australian skidom and international pow paradise.
Niseko Grand Hirafu Mountain Stats & Ski Trail Map
+ Terrain
Beginner: 30%
Intermediate: 38%
Advanced: 32%
# of Runs: 30
Longest run: 5.6 km
+ Elevation & Snowfall
Base elevation: 260m
Summit elevation: 1200m
Vertical: 940m
Avg. snow depth: 390cm
Season: late November to early May
+ Ski passes & Operation Hours
1 day Hirafu+Hanazono: ¥5100
1 day Niseko United: ¥6400
1/2 day Hirafu: ¥3900
Night ticket: ¥2700
Weekday/Holiday Hours: 8:30am-8:30pm
Night riding: Yes, 4:30pm-8:30pm
*reduced rate multi-day ski passes available
*reduced full/half day lift tix prices for children & seniors
+ Access
Nearest town: Kutchan Town
Nearest train station: Kutchan Station (9km), Shin-Chitose Airport (116km)
Car: Yotei National Highway/Route 5 (4.5km)
Public bus: Yes, until late evening between Upper & Lower Hirafu and to/from Hanazono Resort (7:50am-5:10pm)

*Car recommended: No, private shared bus transport from airport goes directly to Hirafu Upper Village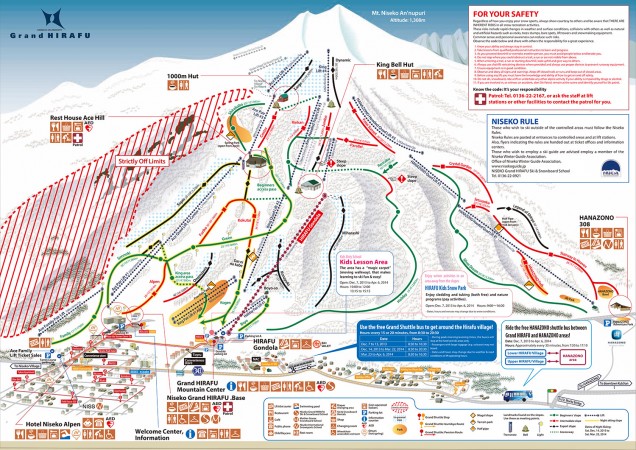 Grand Hirafu Snowtrip Tips
Snowtrip Tip 1: Luxury slopeside views for less than luxury prices
We prefer to spend our money on important things in Japan like skiing, snowboarding, sushi, sake, sumo, beer…yep, that`s about it. But sleeping outside in Niseko, Hokkaido during winter is clearly a bad idea with 15 meters of annual snowfall. If you decide to stay indoors in prime position for on-hill pow pillaging at Grand Hirafu Ski Area and off-hill night-time good-times in Hirafu Village, then stay at the stylish, comfy and convenient Kizuna Apartments in Upper Hirafu Village.
Snowtrip Tip 2: Eat like a king or a jester, either way your taste buds win in Niseko
There are quite a few excellent restaurant options in Niseko, but finding true value for money can be tough. If you`re looking to try some of Hokkaido`s world-class beef at reasonable (Niseko) prices, good idea. Make your reservation early in the week for Rosso Rosso`s steakhouse in lower Hirafu Village or you`ll probably miss out. If you forget to reserve a table at Rosso Rosso`s then just walk a bit further to the local`s favorite pizza n`beer stop, Yummy`s, for a wood fire pizza and top-notch import brew.
Snowtrip Tip 3: Let everyone else wait for their ski hire while you ski
You can get dizzy trying to figure out which ski hire shop to use in Niseko, so here`s a good recommendation to slow your spins. Harro`s Snowsports, located in the Chalet Gondolas lodging complex just before you reach your ultimate Grand Hirafu destination every morning — the Hirafu Gondola — will get you out on the slopes quickly with quality gear and a smile.
Snowtrip Tip 4: Don`t get stranded in the cold of night
If you arrive by shared bus from New Chitose Airport (CTS) or downtown Sapporo, you`ll likely get dropped-off at the Niseko Visitors Center in upper Hirafu Village. Be sure to coordinate the last leg of your travel to your hotel in advance as some buses arrive very late in the evening and taxis might not be around.
Snowtrip Tip 5: Hirafu is the center-piece but don`t forget about the other three
Grand Hirafu has the most to offer in terms of trail system, lift infrastructure and off-hill fun in the villages below, but don`t skip exploring the enitre Niskeo United family of ski resorts.  By adding less than the equivalent of ¥1500 onto your single ski area day pass you`ll be able to access Niseko Annupuri, Niseko Village and Hanazono Resort with the all-inclusive Niseko United Pass.